If you are using other 3D modeling tools than Revit, Rhino and SketchUp, and Unity you can have two ways to load your models to Arkio.
If your original CAD/BIM tool supports exporting to Revit, Rhino and SketchUp and you have access to these tools, This will be the easiest way to get your models to Arkio. You can open your CAD model in these tools (Rhino supports most import formats out of the box) and load your files to Arkio using our Windows plugins
Most standard CAD and BIM file formats can be imported by these tools so this will be the fastest and easiest way to get your DWG or IFC files loaded to Arkio in the correct scale with optimized geometry for mobile devices.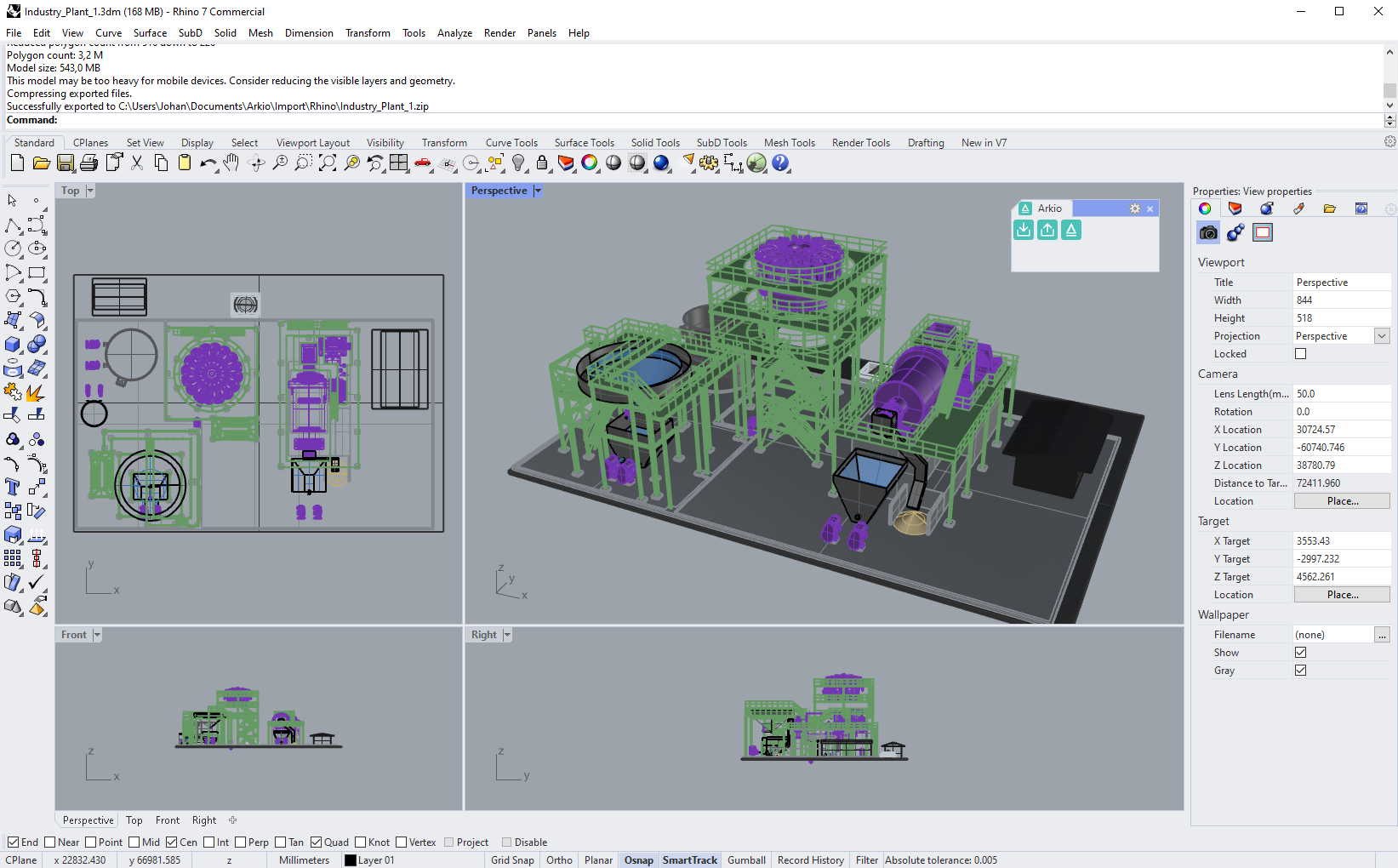 You can also directly export your 3D models to OBJ or GLB/glTF from the original application. Programs like Archicad, and Vectorworks can export directly to OBJ file which is a widely accepted 3D format that can also be imported directly to Arkio via our cloud or locally
If your CAD application does not support exporting to these 3D mesh formats you can also find third-party plugins that allow you to export GLB/glTF files directly from your app (examples of this are Solidworks )
Point cloud files cannot be imported to Arkio but if you convert your point cloud to a mesh you can bring these models to Arkio as OBJ or GLB/glTF files. Autodesk Recap 2022 introduced a scan-to-mesh workflow that can achieve this. You can also use external tools like Pointfuse which can import a wide variety of point cloud formats and export meshes.
OBJ models come with an MTL file and separate texture files that can be in the main directory or a subfolder. All these files need to be in one included with the upload to Arkio to correctly load all textures.

To see if your 3D file and texture paths are correct you can open the OBJ or GLB/glTF file on your default 3D viewer. The Windows 3D viewer supports both OBJ and GLB formats and can be used for this.
You can also open the MTL file in Notepad to check if the texture paths are pointing to the correct textures. The map_Kd parameter should point to a relative path (eg folder\texture.jpg) and not an absolute path that can only be accessed on your PC (eg. C:\Program Files (x86)\Common Files\Autodesk)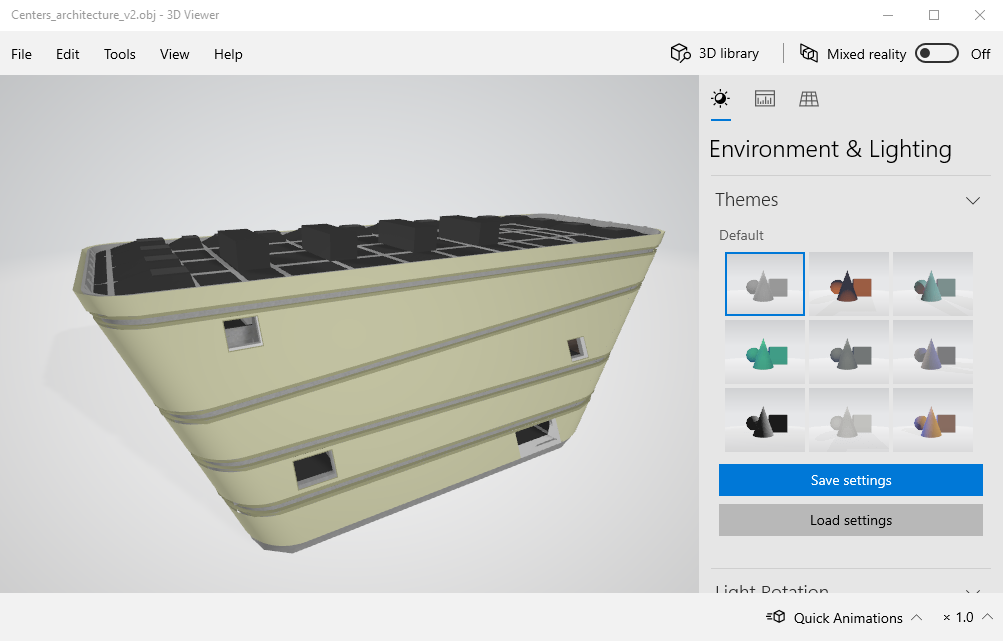 Before you upload files to Arkio you can best ZIP the OBJ and GLB/glTF files to keep all the materials and other files together for easy uploads and sharing. A GLB file can contain all the geometry and textures inside but can also have some external texture files. glTF files can contain a folder for the textures and BIN file that needs to be included for the model geometry and textures to load correctly.

The easiest way to load custom 3D imported files like this is using our Arkio Cloud to upload all the files that belong together for one model. You can read more about this on the Cloud support page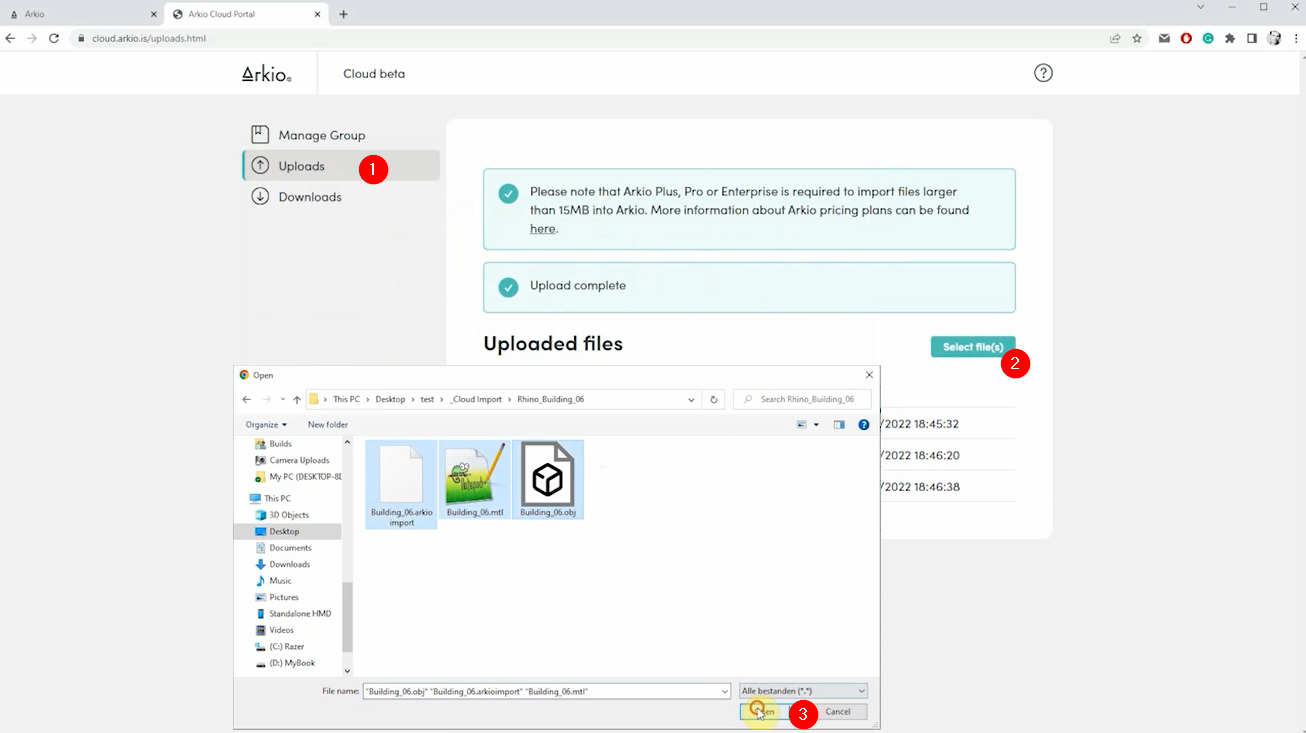 You can learn more about loading and placement of custom 3D import on this page