With Arkio on the Meta Quest, you can use passthrough mode to mix realities. You can toggle passthrough mode on to see your Arkio worktable in your real surroundings
Passthrough is black and white on Quest 1 and 2 while the Quest Pro and QUest 3 features color passthrough to blend the real and virtual worlds. You can design, pan and scale the model just like you normally do in VR mode. You can also lock the model's position in your physical environment using the toggle on the wristband. This will be your default model position when you teleport back to god scale.
Teleporting and aligning your scene
When you teleport to human scale the worktable will disappear to not interfere with your design. You can add virtual objects to your environment, walk around them and pick them up just like you interact with other objects in Arkio.
You can also place larger objects or entire houses in the real world by using the grip controls to align them to your physical environment. When you create something in passthrough mode at human scale your position to the environment will be locked to prevent misalignment of your scene.
You can pan or teleport to get out of this locked position. Teleporting up switches back to god scale and teleporting near your original location marker will align your scene again to the real environment at human scale. The location marker always shows where you are in the real world relative to the virtual scene.
Import Room on your Meta Quest
You can import a room that has been mapped using the Quest room setup that can be found under experimental features on the Quest. Room setup is also accessible from within Arkio from the passthrough menu on the home panel.
The room setup tool makes it easy to map walls, windows, doors and objects like cabinets and other furniture. After room setup is complete you can import your saved room into Arkio by pressing the import room button in the passthrough menu.
Please note: the drawing of walls is done from Room Setup which is an experimental feature from Meta that can be activated and disabled in your Quest system settings. The walls are used by Arkio to import environments but we are not controlling the wall visibility in your Quest boundary and other apps. You can set up a room and disable the previously mapped-out elements in the Meta Quest by going to Settings>Experimental features and clicking Clear Room Setup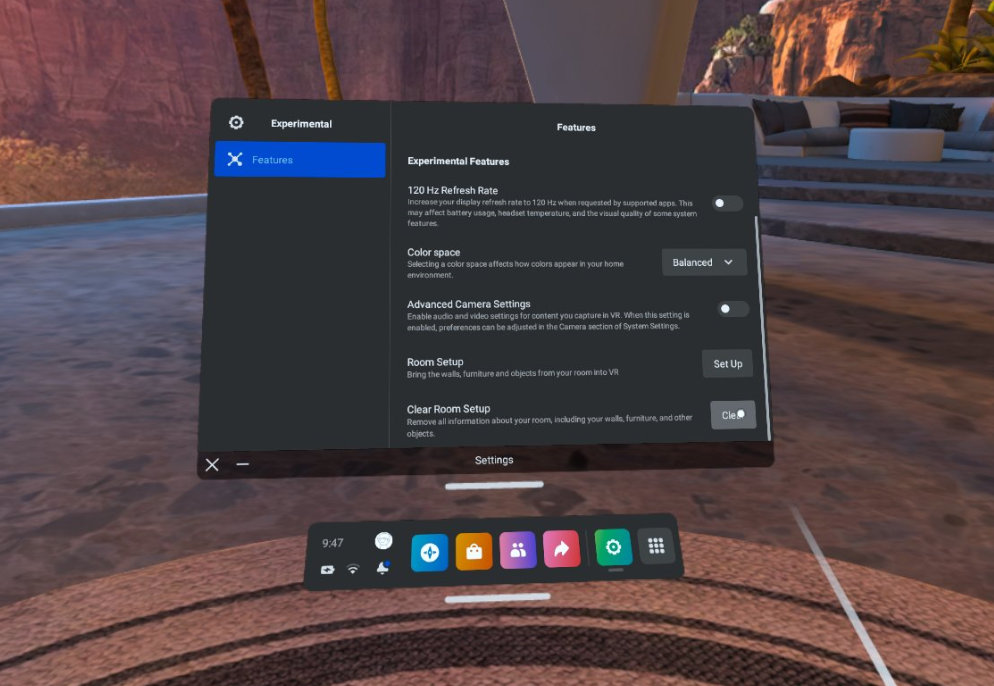 This will import your walls and objects so that they can be modified using Arkio's modeling tools. Your floor, walls and ceiling will have the default Arkio white material applied while objects will be shown using the passthrough material. If you want to see your actual walls you can paint them with the passthrough material.
When you load a room your position will be locked to your physical environment. Teleporting up will switch you back to god scale and teleporting near your location marker will align your virtual scene again to your room. You can toggle the lock on your wristband off to make adjustments to your scene alignment at both human and god scale.
Trace your geometry in Arkio
You can also bring objects in your arkio environment directly by drawing shapes with passthrough material around them. When you draw with this material in passthrough mode you will see white outlines around your objects. Turning passthrough mode off shows your VR view and turns off the white outlines but keeps showing passthrough on your painted objects.
You can place arkio props, custom imports or create solids and voids with primitives to see the real word through these objects. Arkio's shapes are flexible and can later be adjusted. You can always fine tune the sizes later using the edit tool.
Mixing realities
You can use the passthrough toggle on your wristband to show your real environment in both god and human scale. Things can get confusing when mixing realities but you can always turn off passthrough mode and jump back to god scale to get a better view of your project. The key to mixing realities is using the passthrough material and other materials to blend your real and virtual worlds.
I can bring existing objects from my home into my virtual world by making a passthrough shape around them. If faces around this shape are painted with other materials I can also erase parts of this real object by editing or removing the passthrough shape.
Passthrough material
Other materials mask the real world, while the passthrough material shows the real world around you. You can use passthrough material to create magic portals between your real and virtual world. Portals can be created by importing your room or modeling walls, floors or ceilings with passthrough material and turning passthrough mode off.
This will hide the white outlines but will keep showing reality on the shapes painted with the passthrough material. Cutting a hole into these passthrough shapes will now show the virtual Arkio scene and sky on the other side of the wall. I can model something behind this wall in Arkio like my kitchen, place props or even import 3D models like this Lidar scan that was exported from a 3rd party scanning app to Arkio. You can also make virtual portals into existing Arkio creations by modeling elements with the passthrough material anywhere in your scene.
Locking your human scale position
Whenever you create geometry at human scale your position in the scene will be locked. You can manually lock or realign your position using the lock button on your bracelet. You can also hold a passthrough material shape in your hand to have a temporary view into the real world for aligning virtual elements. This shape can be thrown away after you model what you need.
Your scene can contain several locked human scale positions that are indicated by the location markers, enabling you to have several passthrough rooms in the same virtual scene. Mixing realities offers many new and unexplored possibilities and we're curious to hear how you will mix your spatial designs with Arkio.
Colocated Mixed Reality
You can work together with multiple people in Mixed Reality. For this you have to enable point cloud sharing with Meta so anchors in your physical space can be shared between devices. Only the host of a meeting can lock the model's position in god and human scale this will gather the other colocated participants to their current spot (the Anchor icon showing a red highlight shows the user is locked and following the host in a meeting)
There are a few situations where the anchors don't share correctly between participants.
You can try the following steps to make the sharing work more reliably for Meta's headsets:
Turn on point cloud sharing with Meta so the anchors can be shared between devices
Restart the headsets in a well-lit environment with many unique fixed references in the scene (spaces with less repetition and people work better)
Erase your previous tracking spaces to rule out sharing of invalid or old anchor points that will not be currently available on the other devices
Walk around your spaces a bit before you start the Arkio meetings (~ 30 seconds) to give the headsets the time to acquire the same set of anchors to be recognized
Only the meeting host can share anchors with other users nearby. If gathering users in colocation does not work you can try to hit the lock button again on a different position/scale as the host to re-apply the shared anchor operation.
If an Arkio scene already has previous anchors saved you can remove them from the scene via a new button in the settings tab in Arkio
If the anchor sharing still fails during a meeting you can restart Arkio and join the meeting again can resolve the issue.