Importing models larger than 15MB requires a Plus, Pro or Enterprise license. You can learn more about our paid licenses on our website and can start a free trial from Arkio to try this feature.
Arkio supports importing and exporting of images, and 3D models from various tools. The simplest way to import and export models to Arkio is using the Arkio Cloud to share your files between devices like your PC using our plugins and Arkio on your Quest, Mac, tablet, phone, or other supported devices.
To load Revit, Rhino and SketchUp files you need to first open these models in the original software and use the Arkio plugins included in our Windows Installer to prepare your active 3D view for Arkio.
Link the cloud group to your Arkio devices
The Arkio cloud portal allows you to upload and download 3D models and images to and from Arkio on your devices. You can access the cloud portal at cloud.arkio.is to create a new group and optionally give it a name. Once your group has been created you can join the same group in Arkio on your device by entering the invite code provided on the cloud portal. If your original invite code has expired, simply create a new one.
Note: The Arkio Cloud does not require a license, user account, or email. You can create, join or leave Arkio cloud groups when needed. Only the Arkio app requires a license to place larger models in the scene.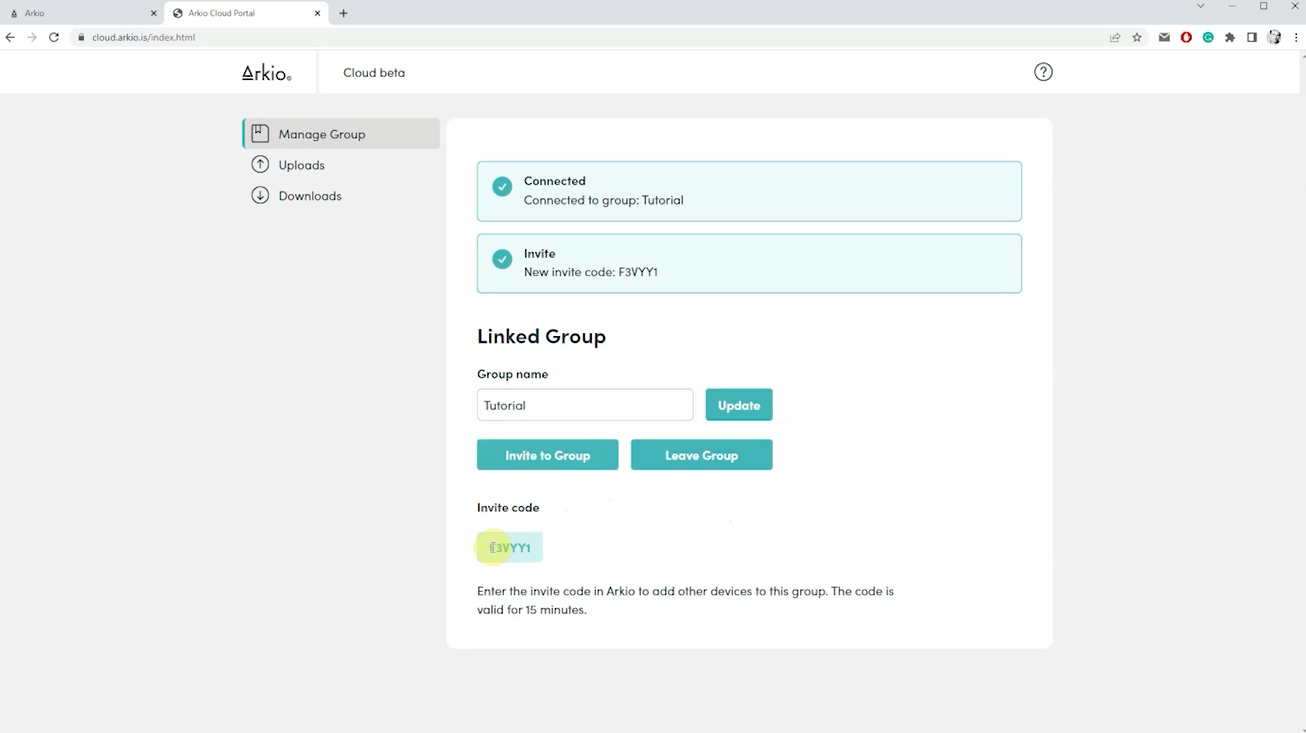 In Arkio you can join the group by selecting the create tool, opening the cloud panel, and entering the invite code here. When joined, any files uploaded through the cloud portal will automatically be downloaded to Arkio.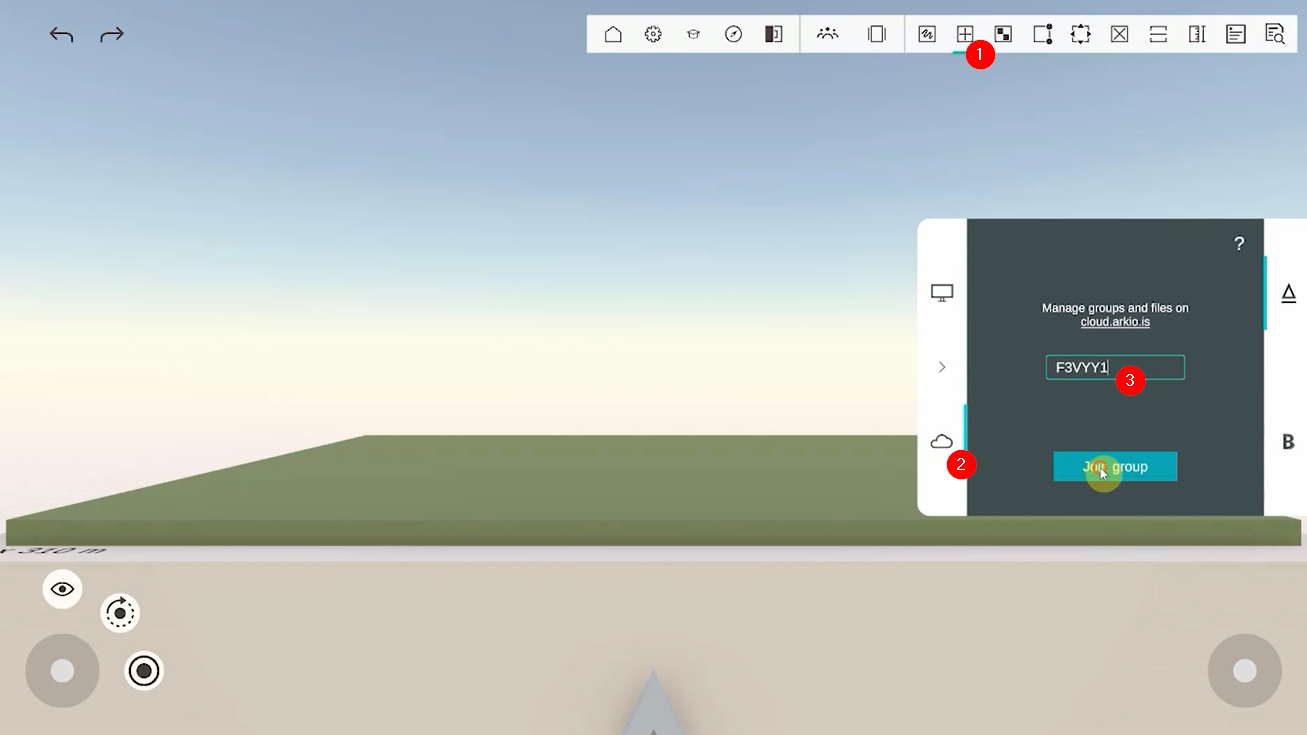 If you join the same group on multiple devices, the files will be downloaded on all of them. Files transferred via the cloud will expire on the cloud after 7 days.
Importing files to Arkio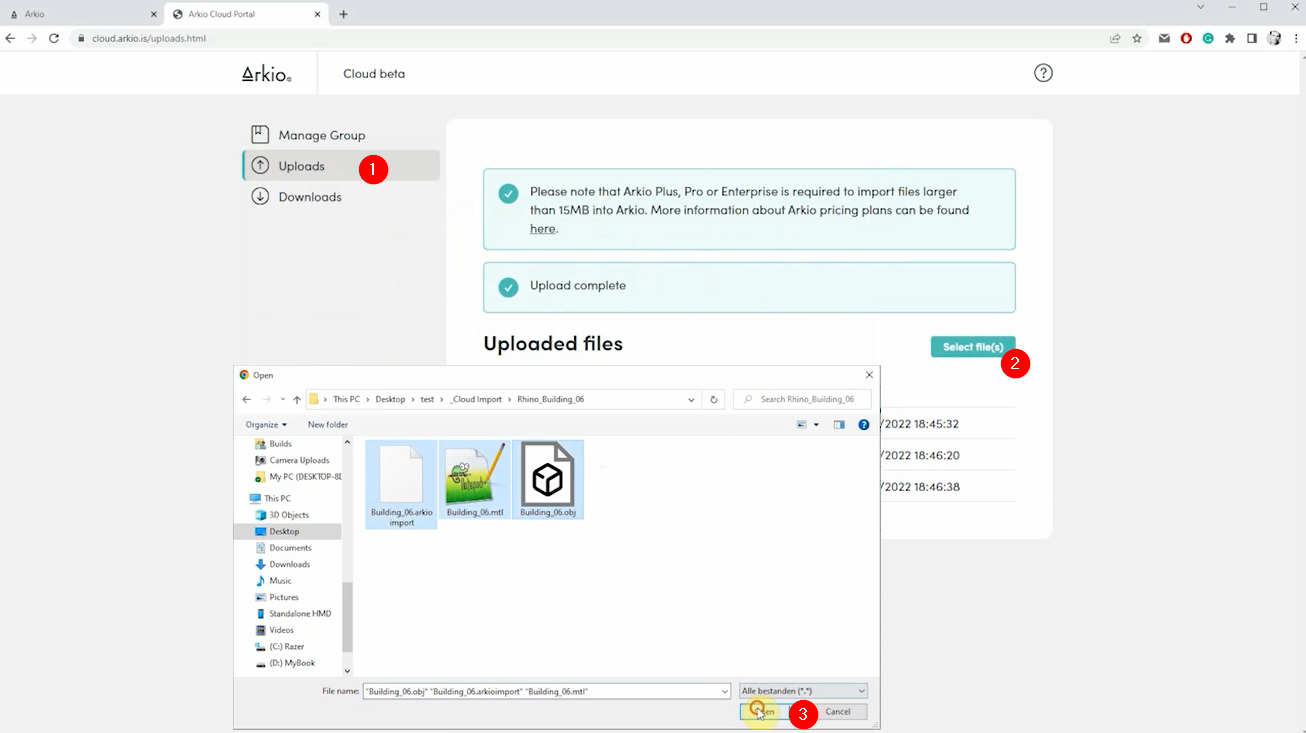 The Arkio cloud portal supports uploading of images, OBJ and GLB models as well as exports from the Arkio plugins for Revit, Rhino, SketchUp and Unity. Exports from our plugins can be found under \Documents\Arkio\Import\. You can multi-select and upload files that belong to the same 3D model or zip the files to upload them as one file to your cloud group.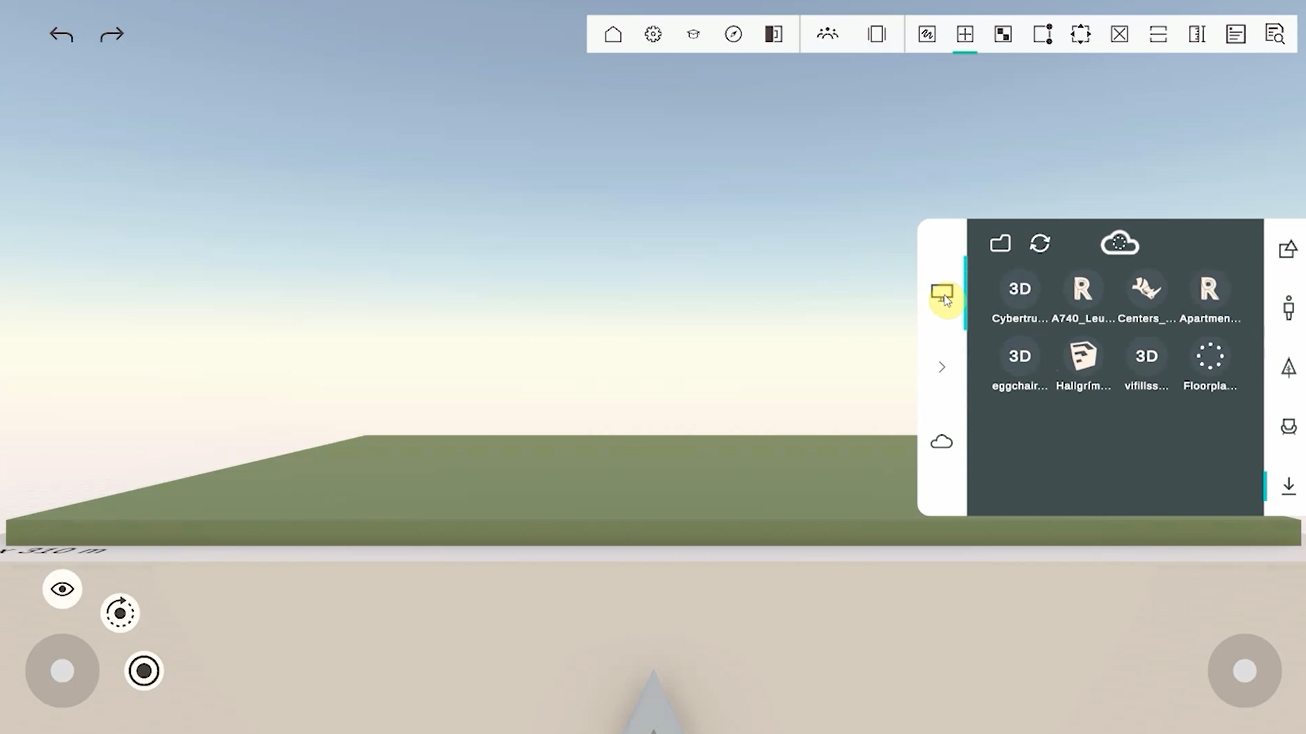 Once your files are uploaded to the Arkio cloud and your devices are in the same Cloud group the files will automatically be downloaded and processed in Arkio, the assets will appear in your import drawer and can be placed in the scene locked at the origin or placed as an object.
Note: Placing exports larger than 15 MB or models exported from our Unity, Revit, Rhino and SketchUp plugins will require a paid license to be applied in Arkio.
Imported models and images can be locked as a non-movable reference (Locked at origin)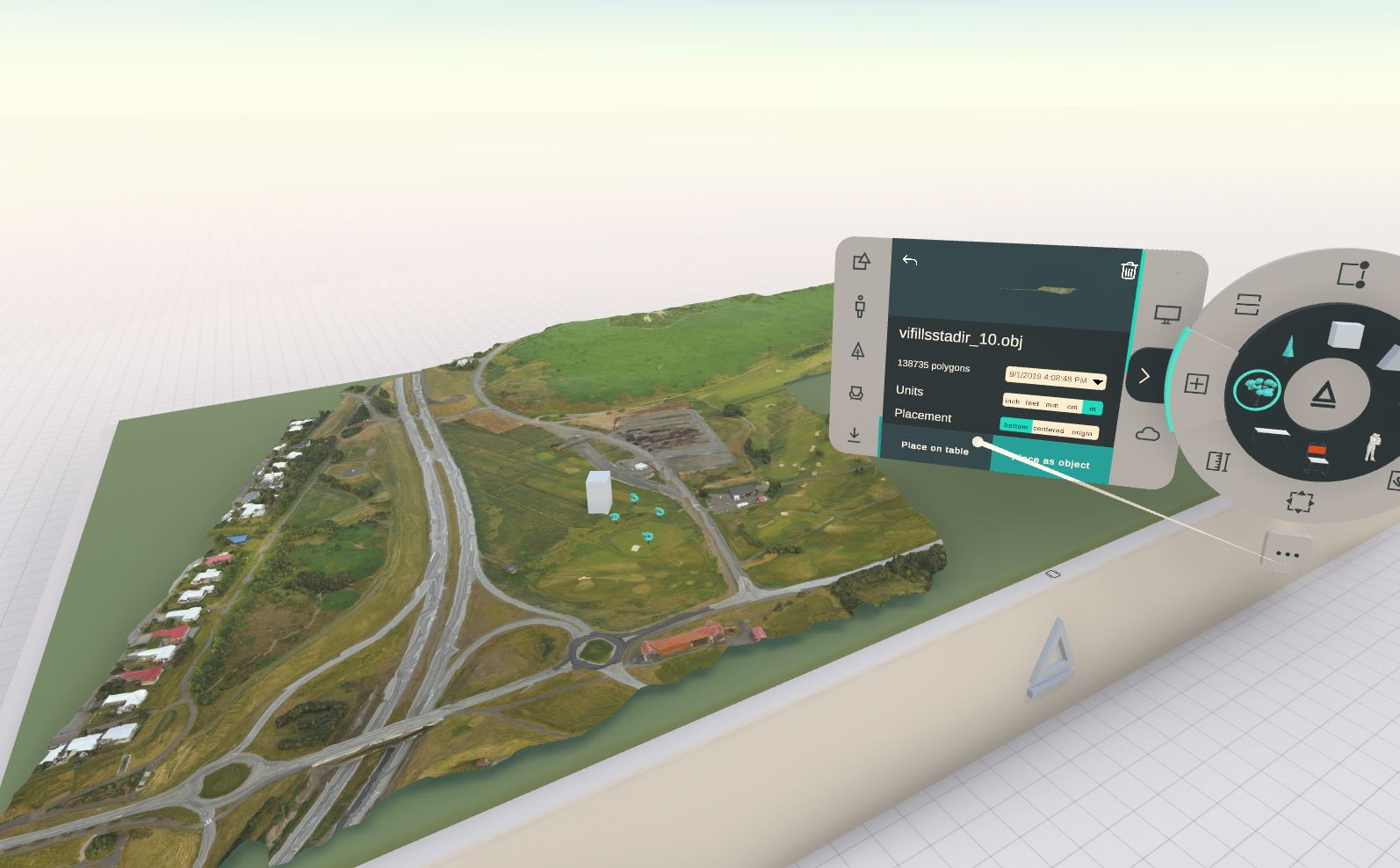 or placed freely like other Arkio props (Place as object)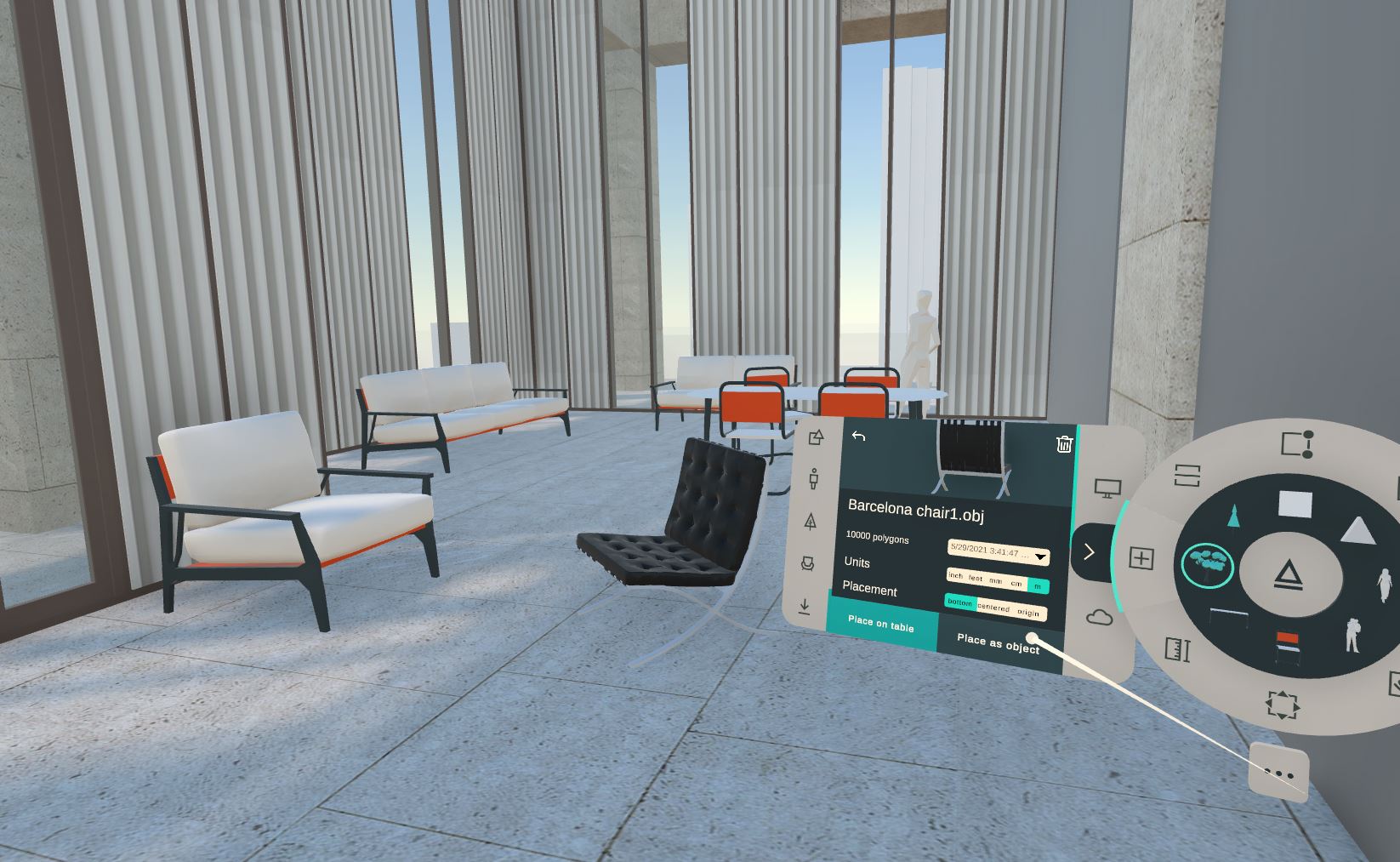 Model import size
The Quest and smartphones are mobile devices running on a battery with limited power. You want to make sure that imported models don't exceed 450K polygons to avoid crashes or uncomfortable framerates for your VR experience. If you have a heavy model but still like to load it on mobile devices you can hide parts of the model in the view before exporting, use lower LOD settings on our plugins or manually optimize your models for mobile devices. We limit the maxumum
| | | |
| --- | --- | --- |
| Platform | Max. polygons | Max. file size |
| Windows or Mac | 20M | 2.000 MB |
| Meta Quest 1 | 900K | 180 MB |
| Meta Quest 2 | 1,5M | 250 MB |
| Meta Quest Pro | 1,5M | 250 MB |
| iOS | 1,5M | 250 MB |
| Android | 1,5M | 250 MB |
Loading indicators
When loading files, the following icons will indicate if the files are currently being processed, loaded or have issues. Models imported in Arkio are stored locally and are only shared with meeting participants fully end-to-end encrypted. When the last user exits the meeting the imported assets will no longer be available for other users to download.
| | | | |
| --- | --- | --- | --- |
| | | | |
| Loading locally | Loading from server | File not found | Update available |
| Initializing model | Downloading model | Click to remove | Click to replace |
If you see a yellow or red warning cloud it means that the model you try to load is too large for your device and cannot be loaded. Try reducing the model size or using Arkio on a more powerful device like a PC with a VR headset in link mode.
Updating models
When you save a new version of your model or image with the same name to the cloud, Arkio will download this automatically and show a yellow notification in your scene to indicate that a new version is available. You can click this yellow icon to update the placed model with the new version.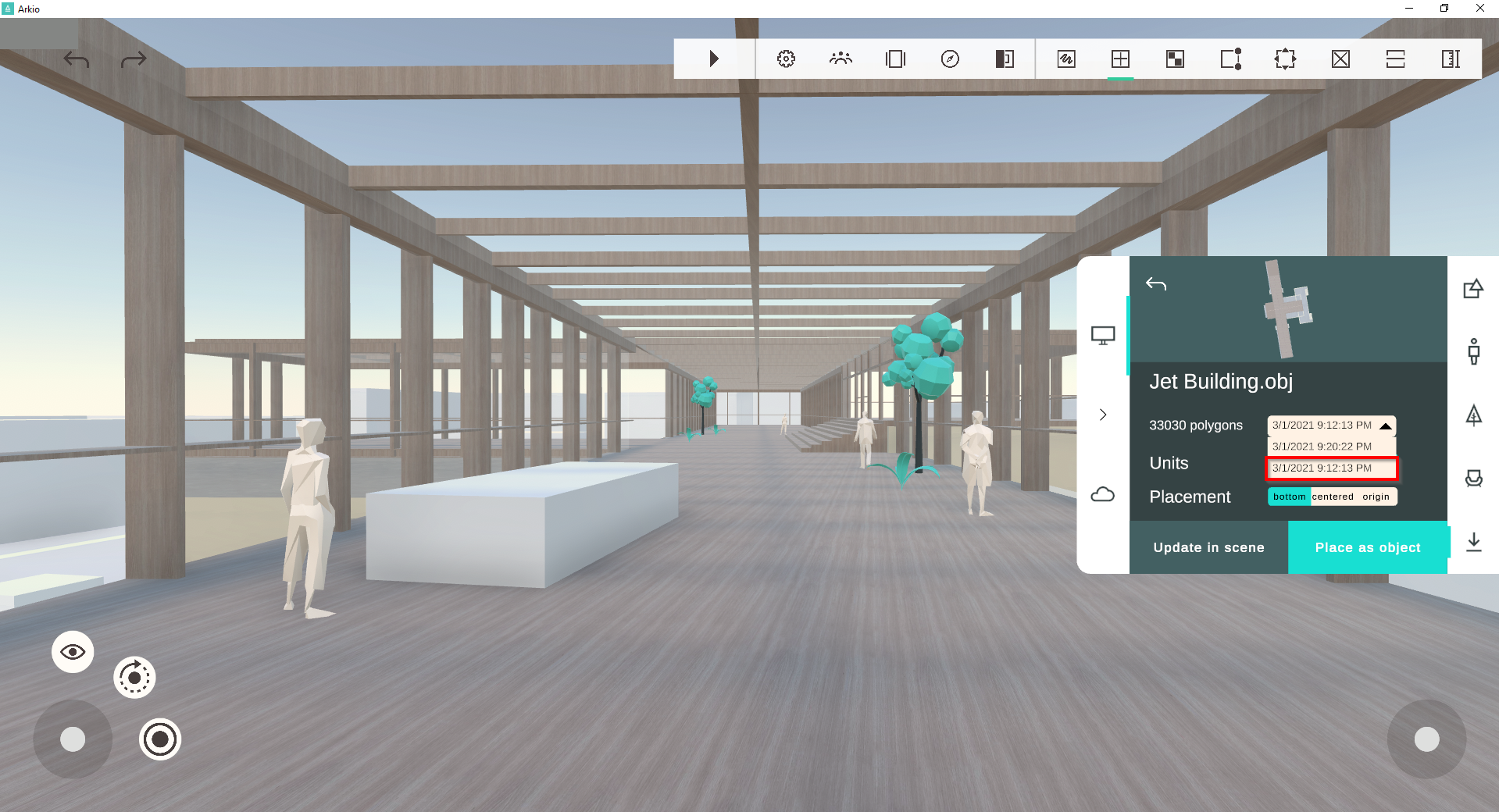 Arkio will keep the old versions of your imported models so you can always revert back to an old version by selecting an older import date in your placement menu and clicking "Update in Scene"
Exporting Files
Arkio models are exported by opening your scenes and selecting the correct export format.
When Arkio is linked to a cloud group you can also export scenes and photos to the cloud from the export panel, found under scenes. Just make sure to toggle the cloud export toggle on.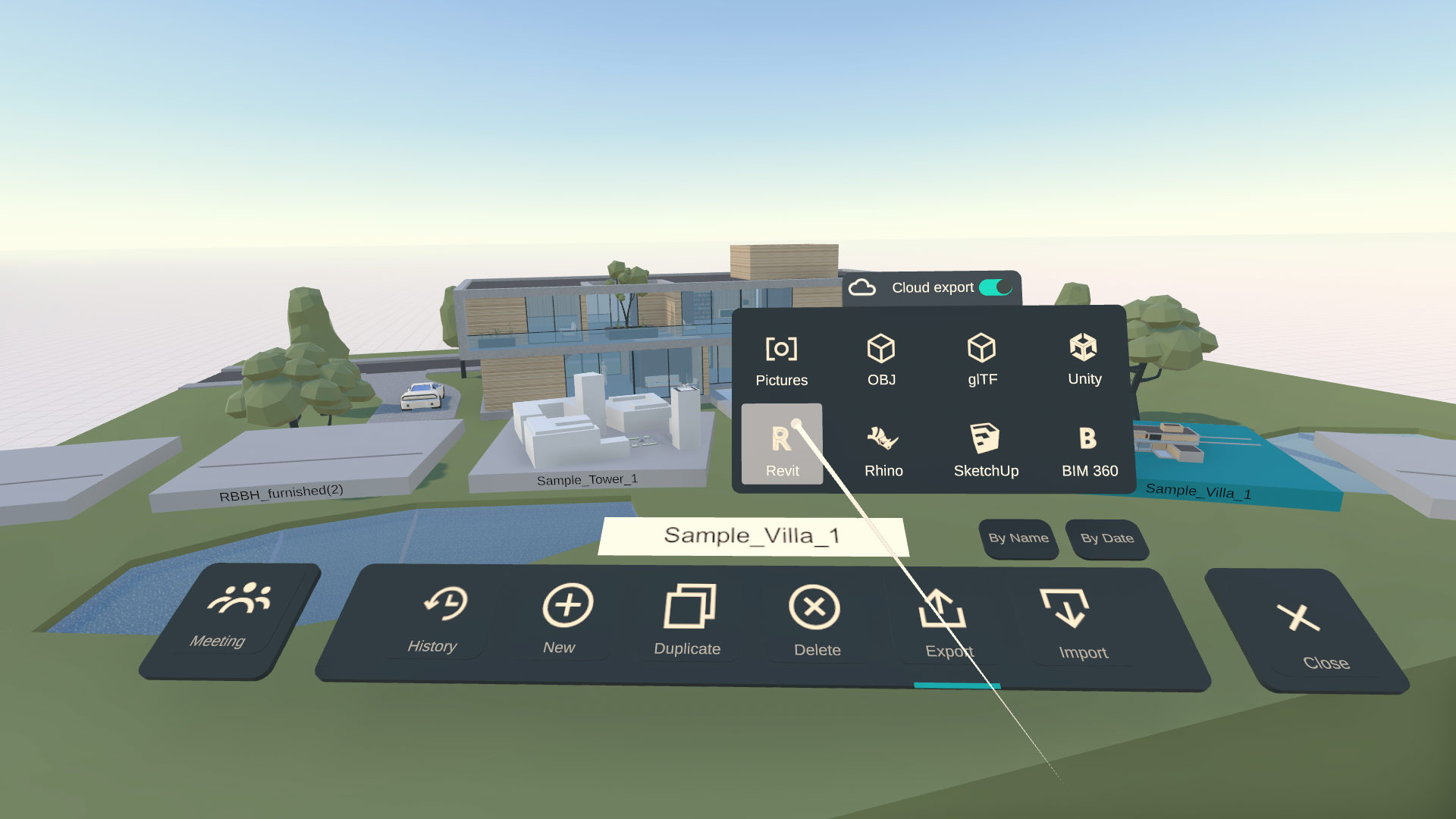 Here you can choose to export photos taken inside Arkio from the last 48 hours or your current scene to our support 3D file formats or plugins. Files exported from Arkio via the cloud can then be found in the cloud portal under downloads and can be downloaded to your device. Exports for Revit and other Arkio plugins can be converted back to native geometry using the Arkio plugins that are included with the Windows installer.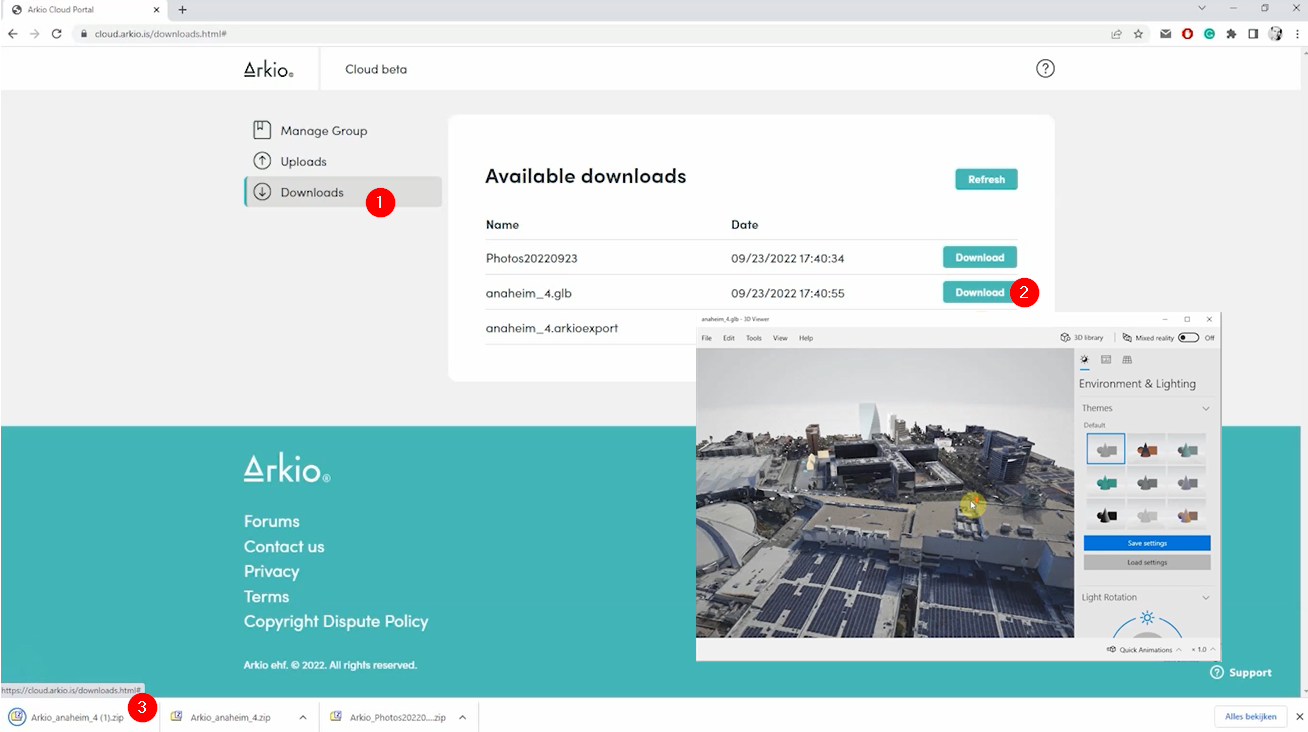 The models get exported in metric (1 unit = 1 meter). OBJ's are exported from Arkio as one mesh that can be spit and edited using mesh editing software. GLB exports will contain the hierarchy of mesh elements and all textures.
Known issues
Uploading Files larger than 200MB to the Arkio cloud can result in failing uploads and will show a warning when you try to do so.
Models larger than 200MB are often too large to load on mobile devices like a Quest. If you need to work with these large files you can best import the file locally to Arkio on a more powerful device like a PC that can also be used to work on larger models in VR by using your VR headsets in (air)link mode.