You can buy Arkio Pro and Enterprise licenses on our website pricing page. The difference between the licenses can be compared in the feature table on the page. You can also start a 14-day free Pro trial from inside Arkio to try out the Pro features before purchasing a license.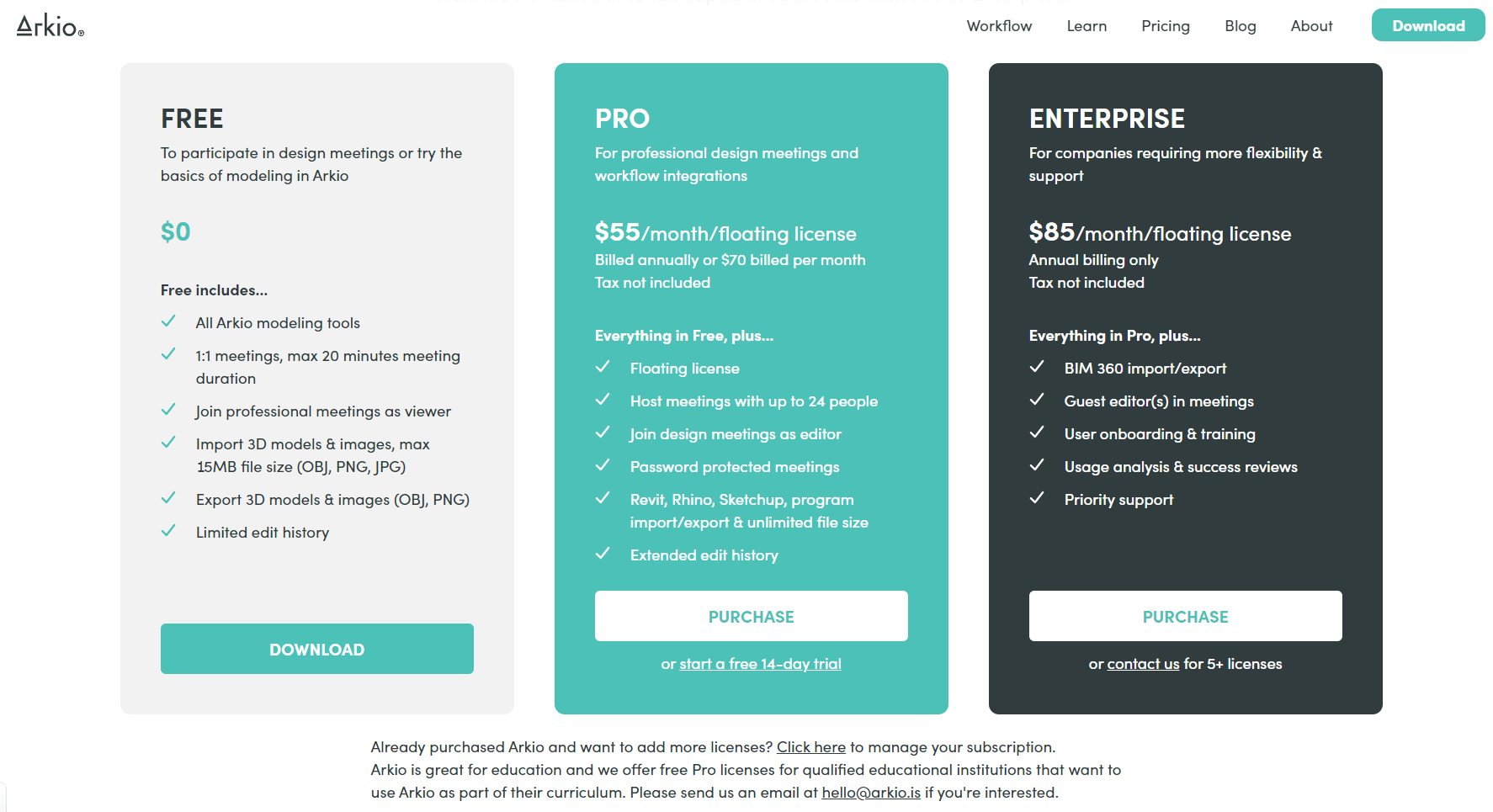 Once you decide on the type of plan you can start the purchase. Start by selecting if you want to pay annually (cheaper) or monthly (only for Arkio Pro) and how many floating licenses you wish to buy. The number of licenses can later be increased after the order is complete, see the edit section at the bottom of this article.
When you press checkout we will take you to the checkout page where you can see the price in your local currency and fill in all the details for your order. You can deduct the VAT from your order according to your local tax rules by filling in your VAT-ID (1). If you have received a promotional code from us you can enter that under (2) to get a discount on your order.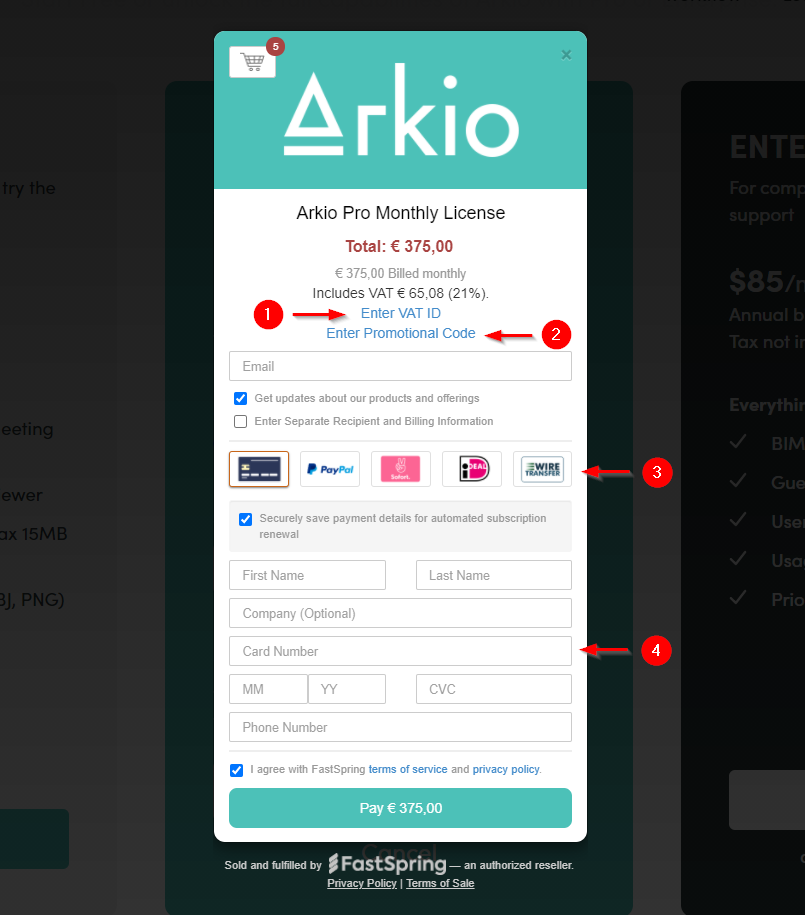 What remains is selecting your local preferred payment method (3) and filling in your details (4).
After you finish your order we will send you an order confirmation that contains the details of your order along with your unique license code (1), a link to manage your order in the future (2) and a link to view and invoice for your purchase (3).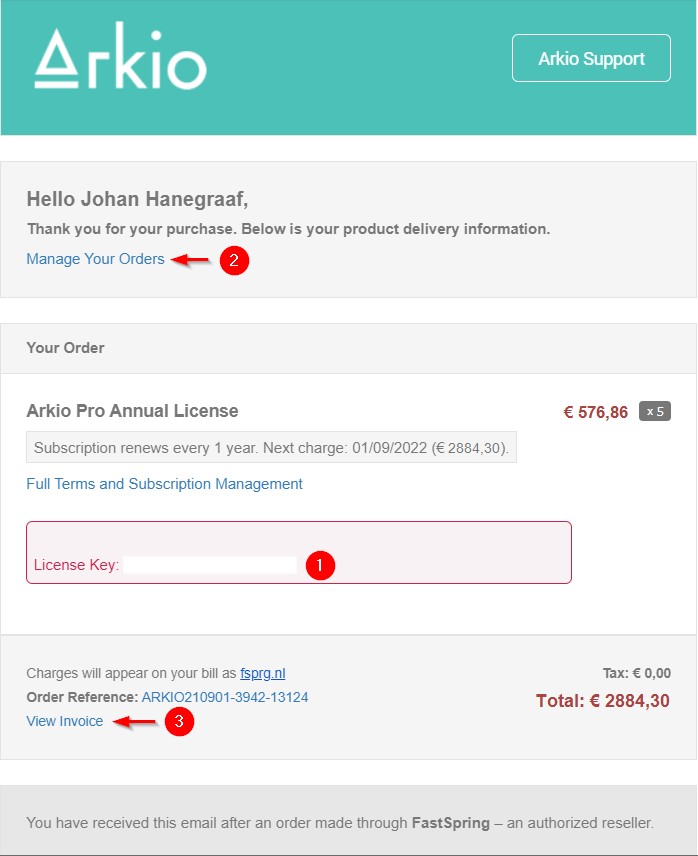 This license code will be valid right away and can be shared with your colleagues and added to your Arkio devices to gain access to the Pro or Enterprise features.
Manage your orders or edit your license quantity
You can edit your Arkio paid plans using the manage link in the order confirmation mail or our pricing page. Once logged into the portal using your email, you can see all your Arkio orders. Here you can select the order you want to manage, edit billing information or increase the number of licenses in the upgrade subscription section. If you update the number of floating licenses you will be asked for a new payment to directly add the new floating licenses to your existing license key.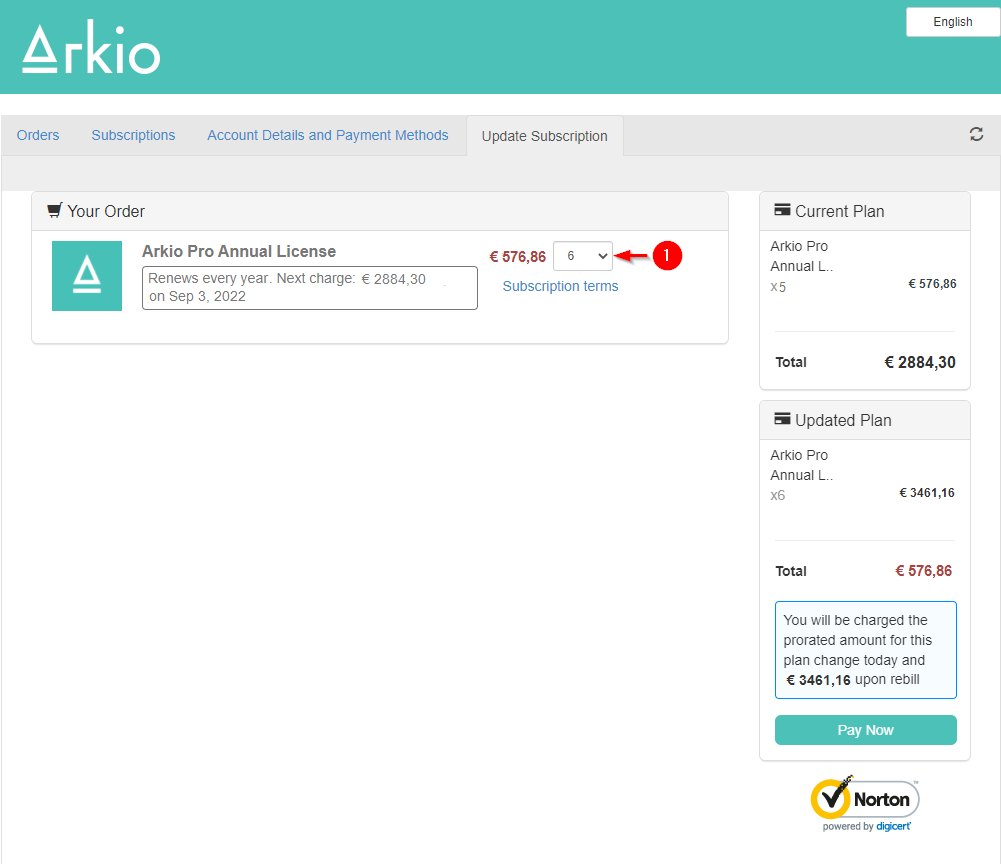 If you cancel your subscription you will no longer be charged for your next payment term and the license will automatically expire after that time. We do not offer refunds on subscriptions. You can contact us if you run into any issues or have questions about adjusting your subscription.