The free version of Arkio can be upgraded to add professional features like unlimited imports & exports from Unity, Revit, Rhino, SketchUp, BIM 360 and host larger meetings that can invite free viewers or collaborate with up to 24 editors that also have a license. These features are blocked behind an Arkio store notification and require you to add a floating license key, start a trial or get a subscription via the Meta Quest store.
Please note: Meta Quest Store subscription will only unlock Arkio's paid features on your Quest and Oculus PC app. Subscriptions bought via our website use a floating license key that can be used on your Quest and all other supported devices. If you want a floating license instead of a Quest-only license you can cancel your Quest subscription via the Quest mobile app and get a Arkio license via arkio.is instead.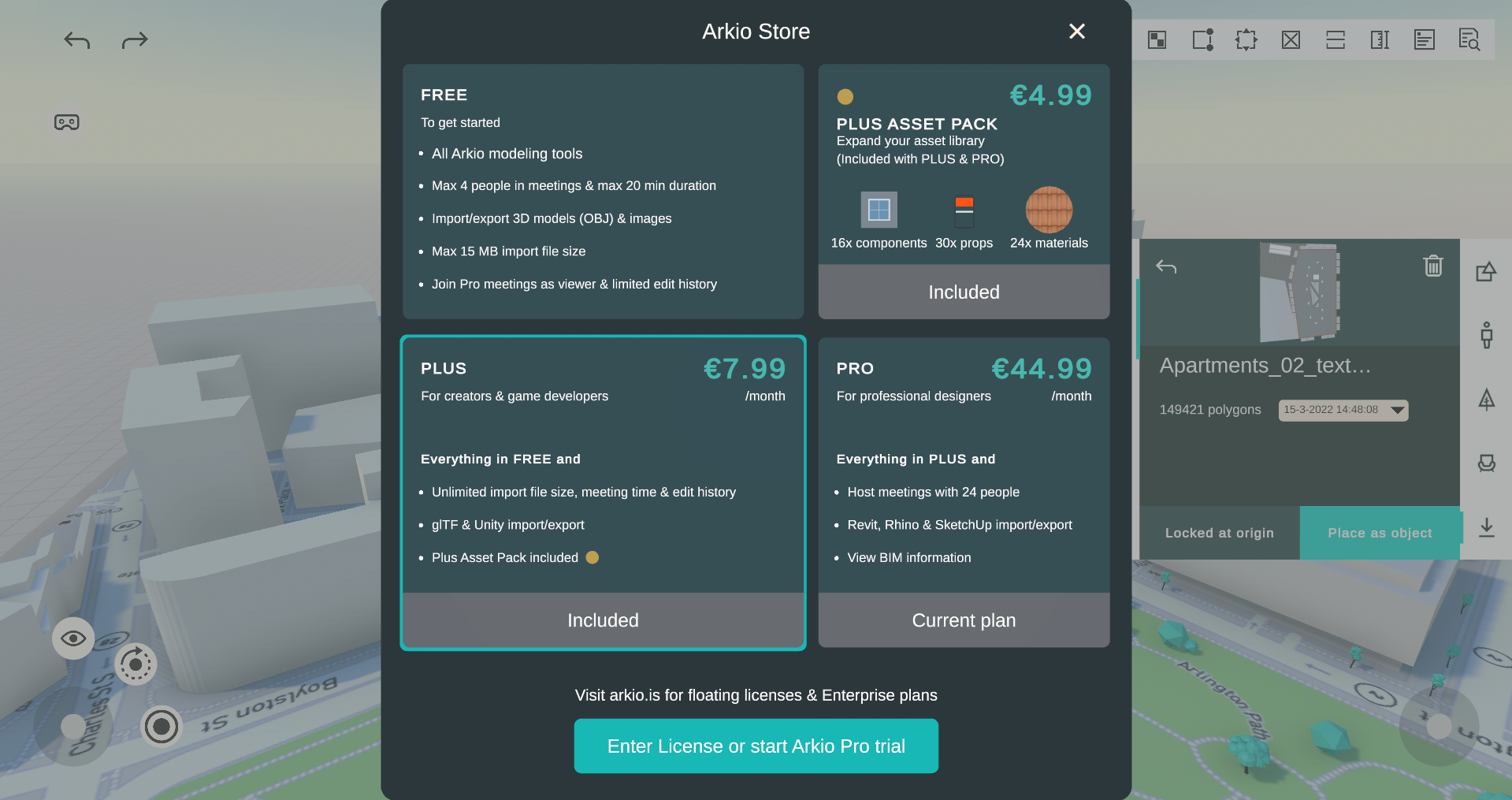 If you start a trial or add a Pro/Enterprise license to Arkio it will immediately unlock the paid features on your device. You can activate your license by starting a 14-day trial or fill the license code sent by email after your purchase from our Pricing page
Arkio licenses bought via our website are floating. This means that the device that will first start Arkio will take an available floating license. When you log in to more devices that you have licenses the last devices wait for an available license and act as the free version. (a notification will show on your tool ribbon and VR wristband). When you log out of Arkio on your first device your 2nd or subsequent device will get the license instead.
With the free version of Arkio, you are still able to work on models and join meetings as a viewer but you will not be able to use paid features like placing large imports from Revit or host and edit in large professional meetings with up to 24 participants.
The main difference between the Pro and Free versions of Arkio is that free users can only view in a meeting and are not able to edit or import/export any large models themselves. Enterprise users can also temporarily assign guest editor rights to free users in a meeting.
If you are using Arkio without an Internet connection and you previously had a valid license Arkio will enter a grace period where you can still Arkio's paid features for 24 hours. If this grace period expires you will have to connect to the Internet again to re-enable your Arkio license.