Importing models from and to SketchUp requires a Pro or Enterprise license. You can learn more about our paid licenses on our website and can start a free trial from Arkio to try this feature.
The latest Revit, Rhino and Sketchup plugins are included with our Windows installer that can be downloaded for free from our website.
The Arkio SketchUp plugin allows you to export, update models from SketchUp 2018, 2019, 2020, 2021 and 2022 to Arkio and back. All 3D geometry and textures visible in your view will be exported to Arkio. So you can turn off layers and hide geometry you don't want to export.
SketchUp to Arkio
To export your models from SketchUp you need to have the Arkio plugin installed, then open a model you want to export and press the export button found under the Arkio toolbar. If you don't see the Arkio buttons you can enable it by right-clicking your toolbar.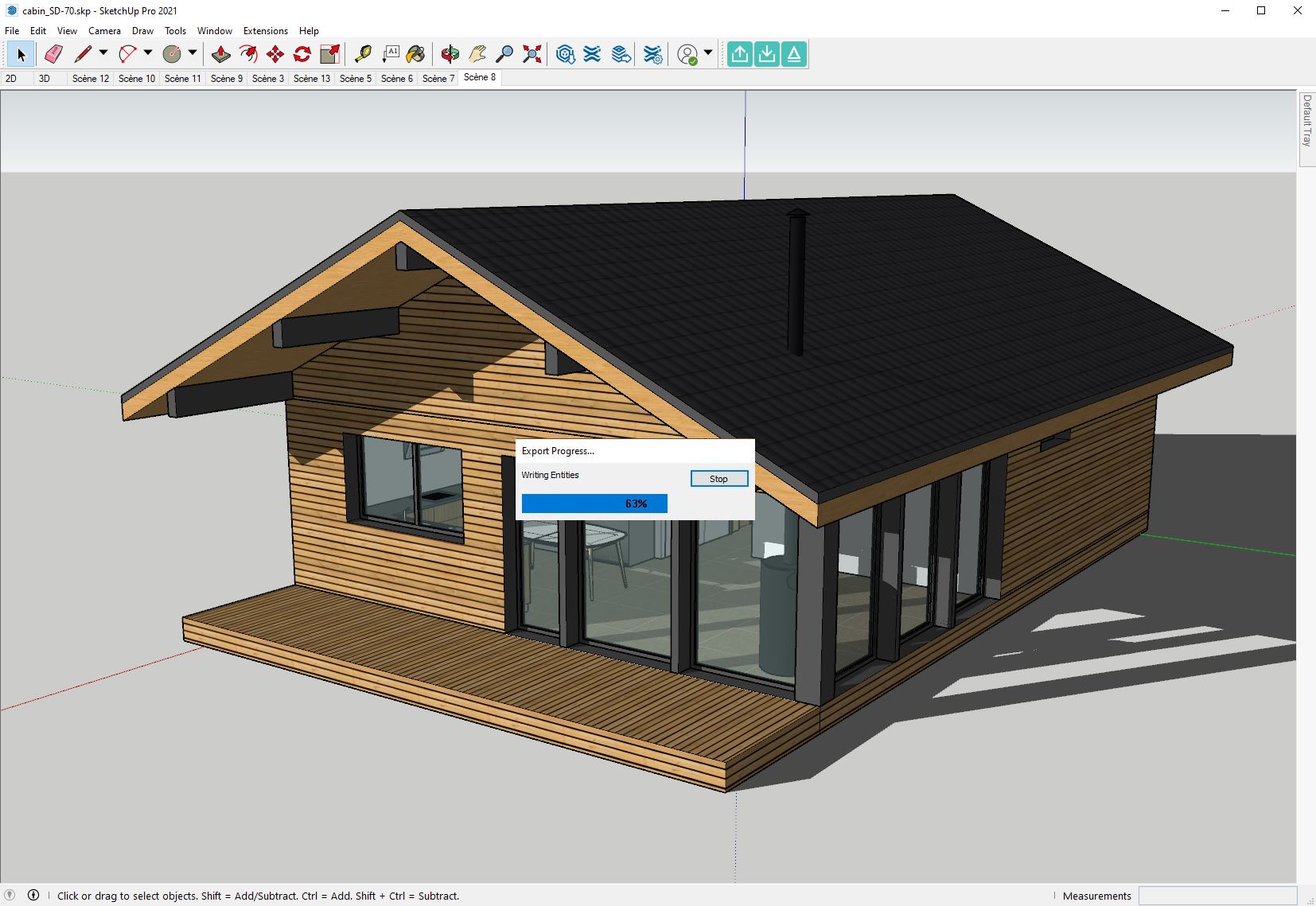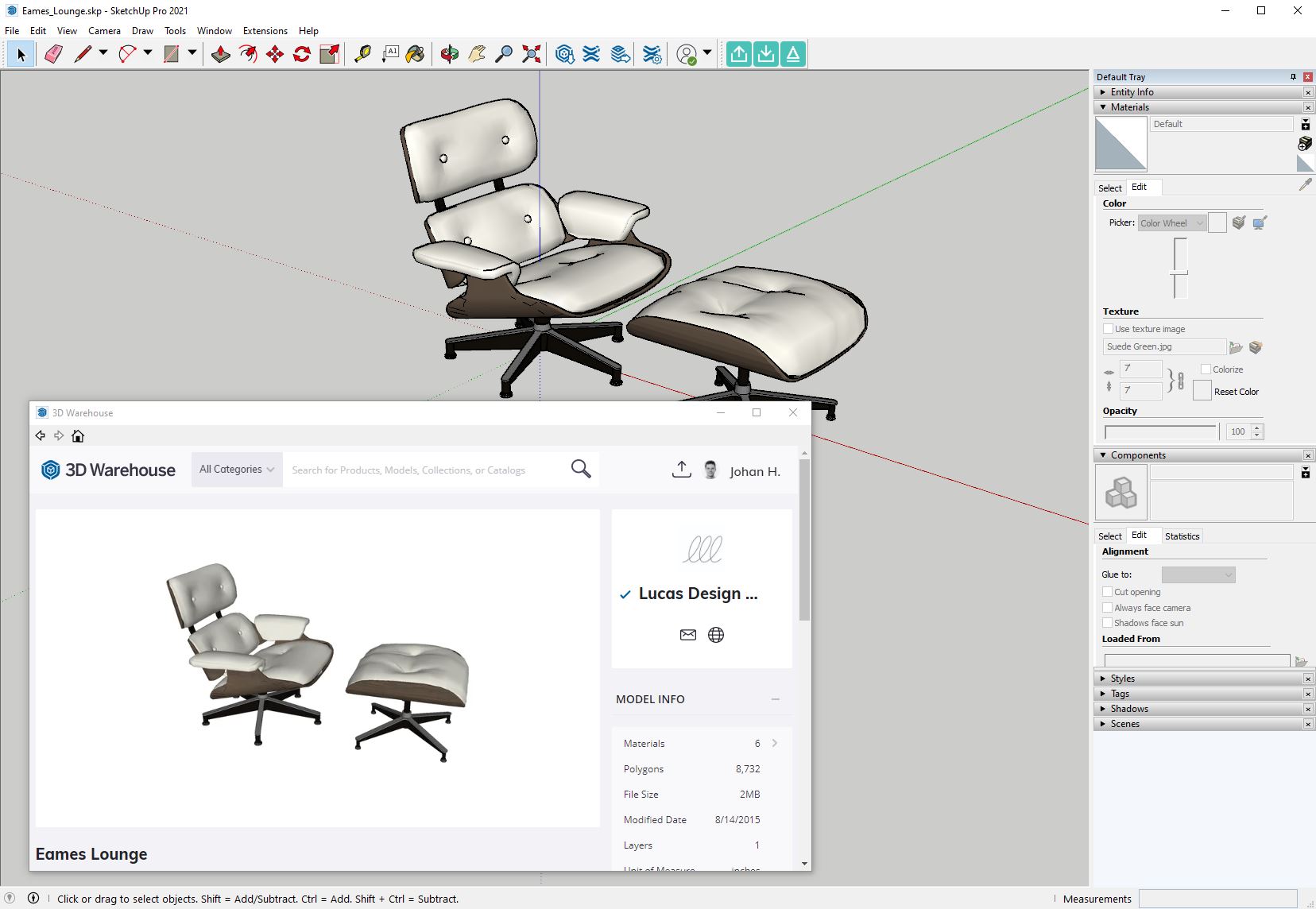 Once you open Arkio on your Windows PC where you installed the plugin, the SketchUp exports will be visible on your create>import drawer. The files saved in your import folder will be automatically converted to Arkio objects at runtime. You can also copy and import the SketchUp exported file on mobile devices but it's easiest to import your models on a PC/Mac first and just share them with other devices using an Arkio meeting.
Use Locked at orgin to load the model as a locked reference with the same coordinates (to draw a new design on).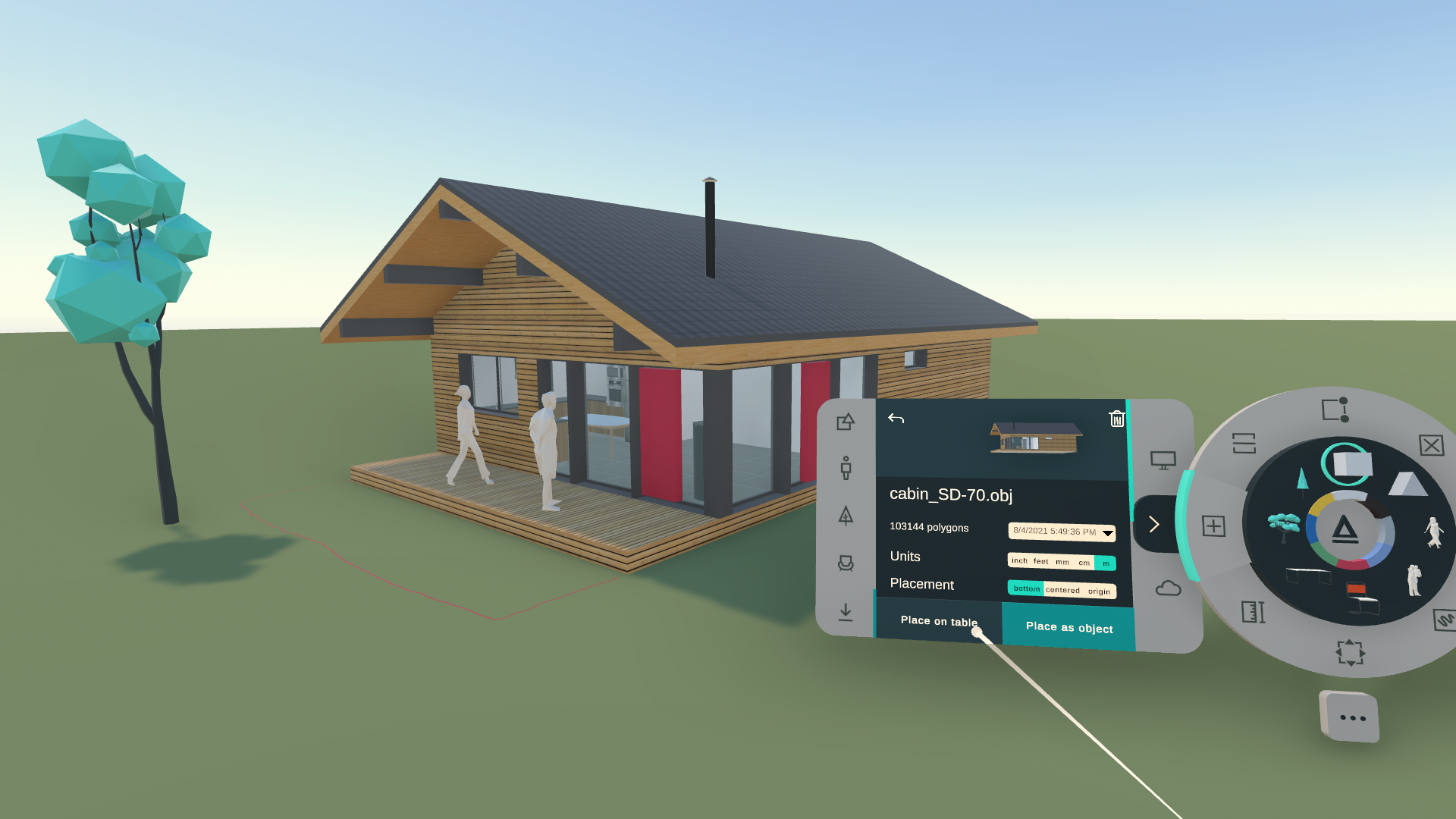 Or use place as object to place your sketchup model as a movable object (e.g. a piece of furniture that you want to place in the scene multiple times)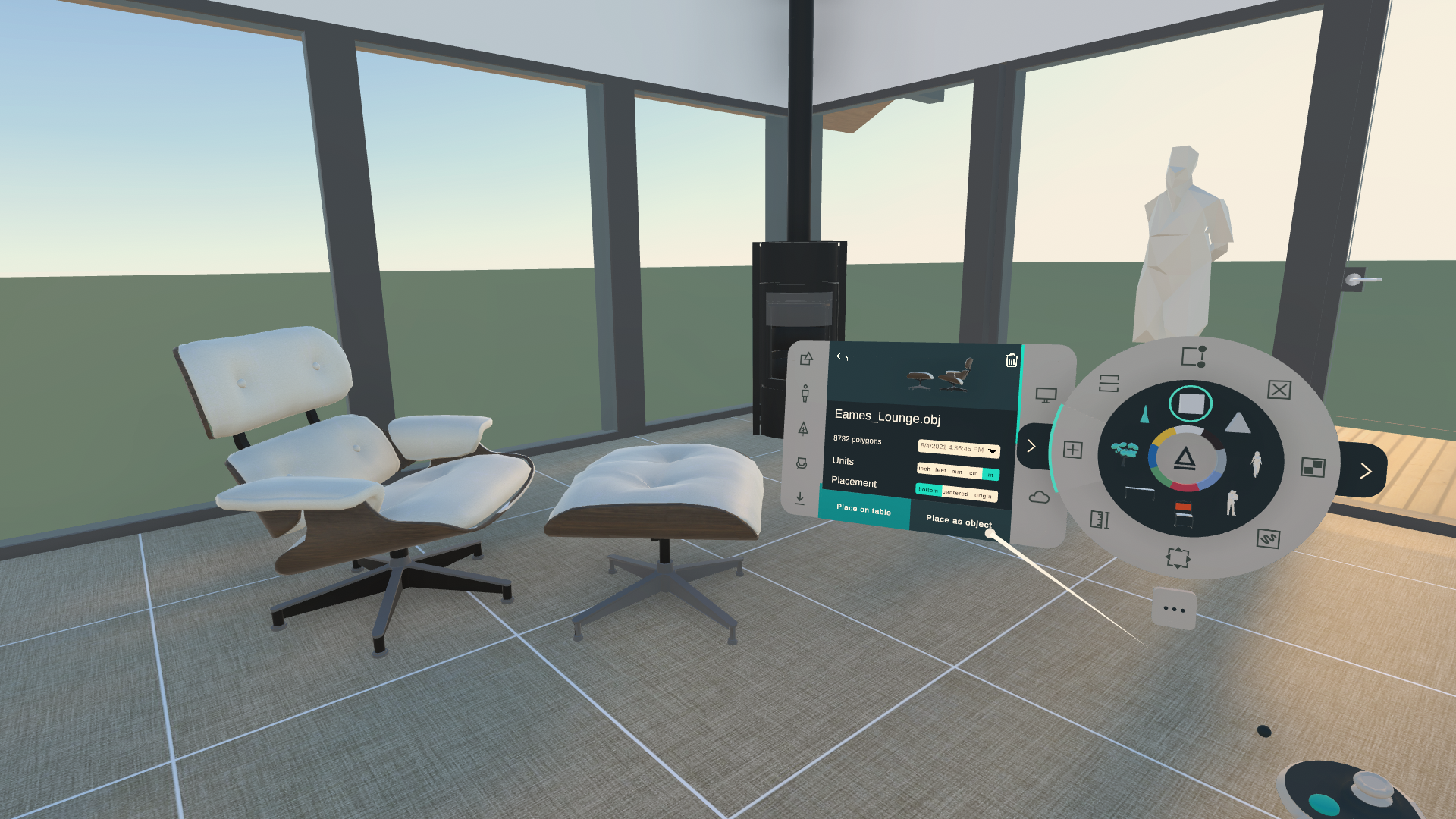 Update your models
When a change is made in SketchUp you can overwrite your model with a new version by exporting the same model from SketchUp again. A spinning indicator shows on the file overview when models are loaded. When the new version of the model is available a yellow update icon will show above the model in the Arkio scene. Clicking this icon with your mouse or VR laser will update that model to the latest version.
If you don't want to update your existing model or if you want to switch between various design options you can change the file name of the Sketchup models instead of updating your existing model.
Arkio will keep the old versions of your imported models so you can always revert back when needed. You can access all the older models in the import model dialog date dropdown.
Arkio to SketchUp
To import your models from Arkio back to SketchUp you can best open the Scene overview on a Windows version of Arkio and click the export button. Once the export is made for SketchUp an export confirmation will be shown.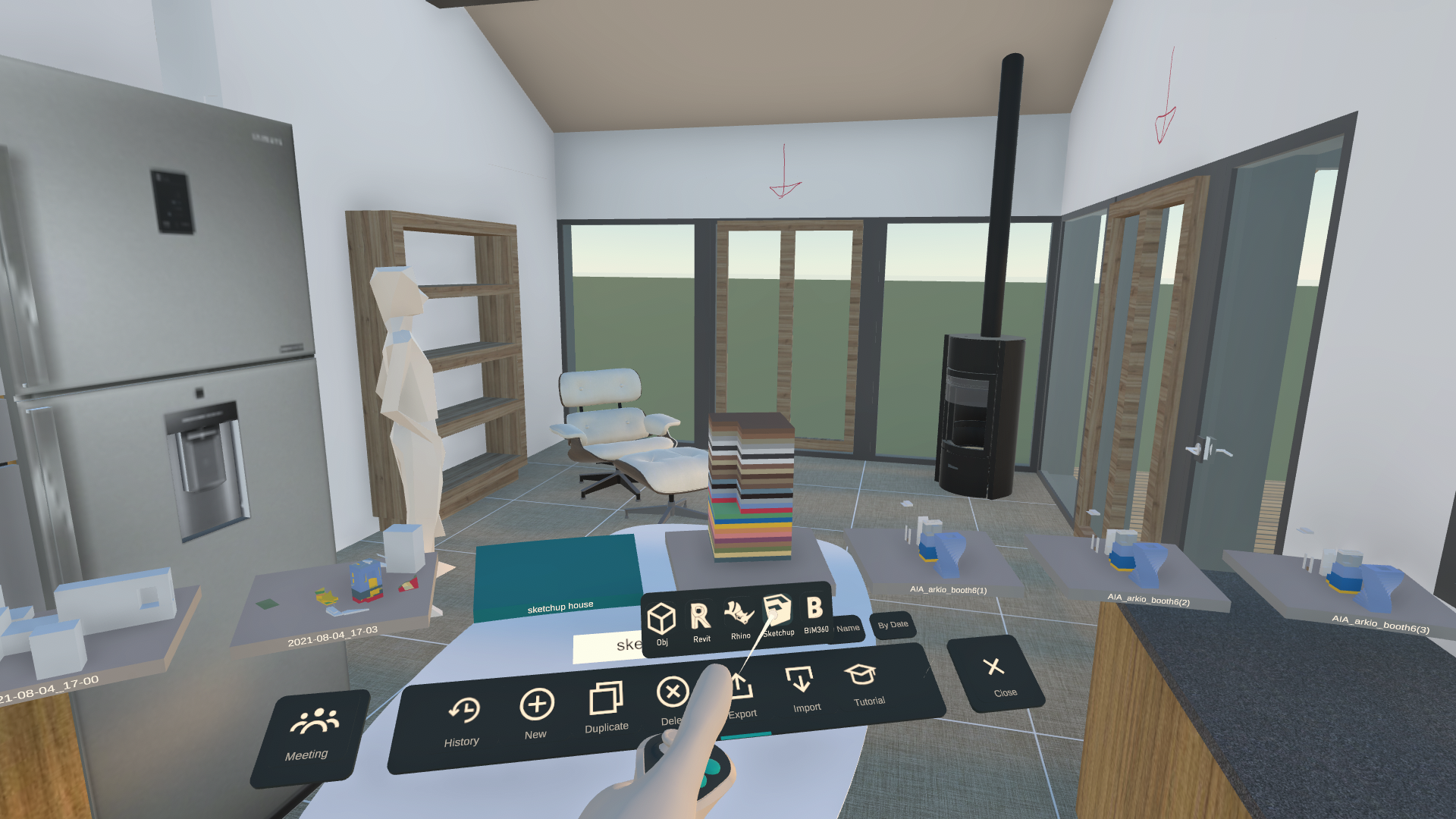 Back in SketchUp you can open our SketchUpPlugin import and go to the Arkio/Export/Rhino folder and select the file you want to import. All Arkios geometry, components, sketches and 3D map buildings will then be converted to SketchUp geometry.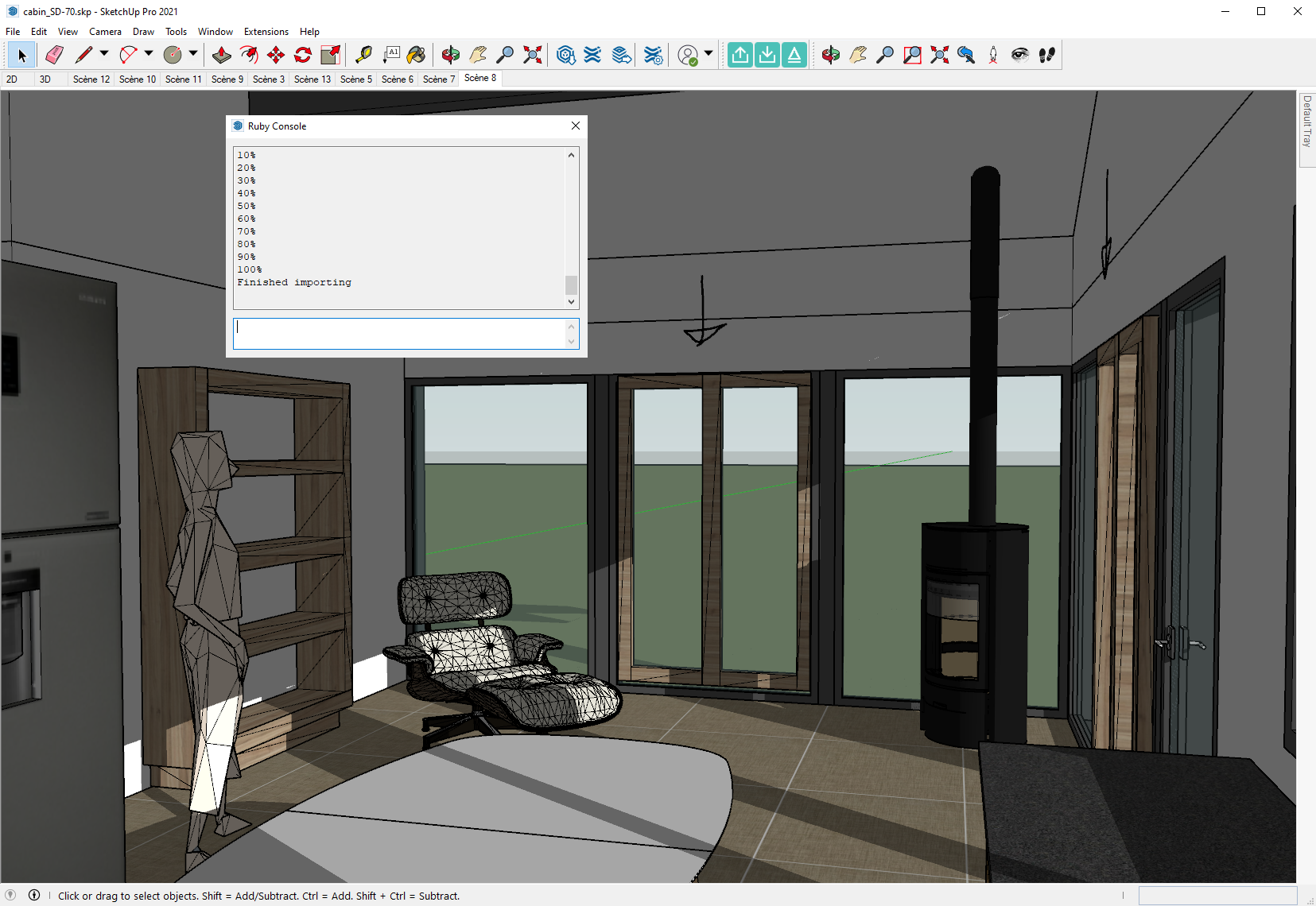 Known issues/limitations:
Loading of heavy files is not recommended, try to keep your models below 450K polygons to avoid crashes and VR performance loss when working with mobile devices like the Oculus Quest.

If you experience issues loading your models try to load the OBJ exports in the Windows 3D viewer, Blender or Rhino to see if the files load well there and what geometry might be causing the issue.



Sometimes failing imported models affect the loading of other files. Cleaning your temporary ResourceCache files can solve most issues.
Best practices SketchUp modeling
Models from SketchUp have two-sided faces. A white material for the exterior and a purple one for the interior of shapes. Arkio exports models from Sketchup as a one-sided material following the exterior (white) surface direction.

You can also export your scenes as double-sided but this will double the number of polygons in your Arkio scene and affect the rendering performance

You can check the model's face direction by switching the Face Style to Monochrome in Sketchup and selecting and reversing the incorrect faces.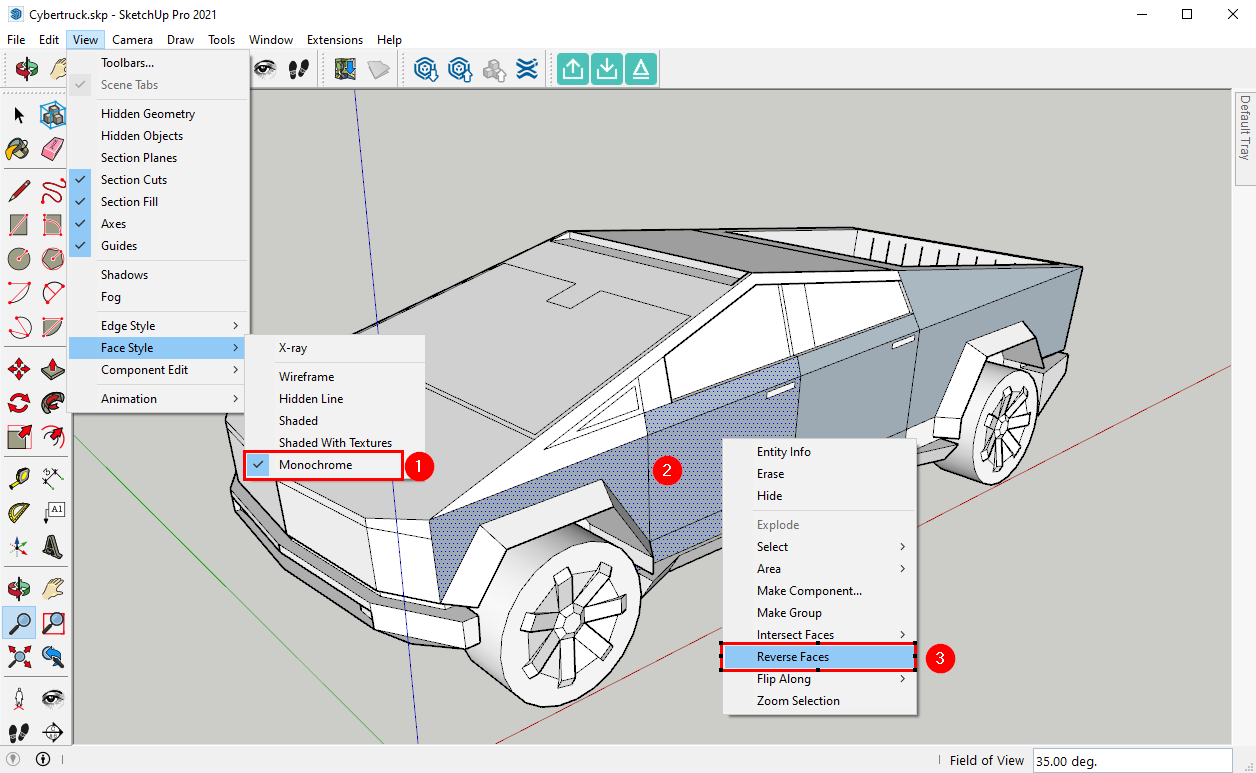 It's best to check the size of your models before you load and optimize them on mobile devices. You can check the number of faces of your model using Window>Model Info.
The objects visible in your 3D view will be exported to Arkio using the plugin so you can reduce the model size by

turning off layers, hiding geometry, and optimizing your components.

You can optimize your Sketchup models and components and increase performance for Sketchup and Arkio using plugins like Skimp