Importing models from and to Rhino requires a Pro or Enterprise license. You can learn more about our paid licenses on our website and can start a free trial from Arkio to try this feature.
The Arkio Rhino plugin allows you to export and update models from Rhino 6 and 7 to Arkio. We currently support exporting NURB and Mesh models with materials and textures, and exporting Arkio creations back to Rhino using the same coordinates. More functionality will be added in the coming months. The latest Rhino, Revit and Sketchup plugins come with our Windows installer that can be downloaded from our website.
Rhino to Arkio
To export your models from Rhino you need to have the Arkio plugin installed, just choose a 3D view with the elements visible you want to export and press the export button found under the ArkioRhinoPlugin toolbar.

Clicking Export to Arkio will ask if you the following Export settings in the console
| | |
| --- | --- |
| Skip imported Arkio objects <Yes> (Yes No) | Skips previous imported Arkio geometry |
| Level of detail <0.5> (value between 0.0-1.0) | Polygon reduction value for exporting |
You can use the default setting by just hitting enter twice. If you need fewer polygons for loading Rhino models on mobile devices like the Oculus Quest you can try exporting with lower values like 0.2 or 0.3 or use higher vallues if your round geometry neede more detail in Arkio.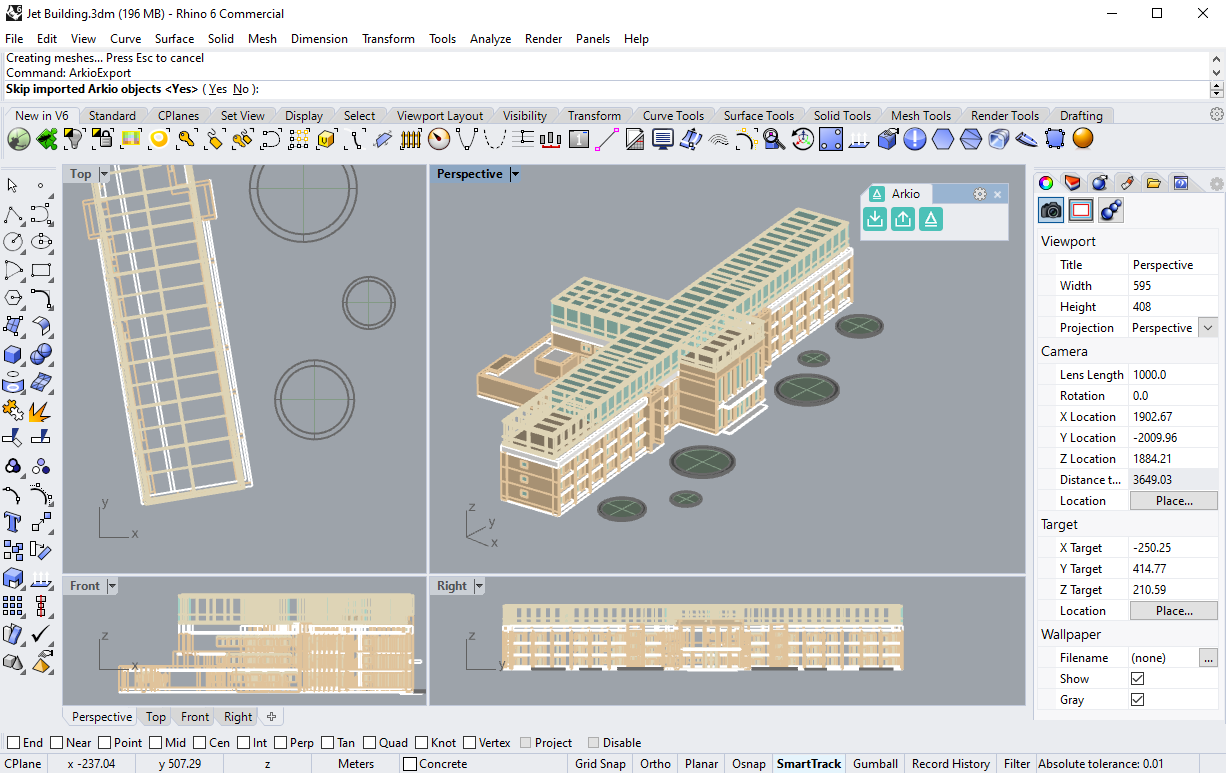 Once in Arkio the Rhino export file will be visible on your create>import drawer. The files are saved in your import folder on your PC will be automatically converted to Arkio objects at runtime. You can also copy and import the file on your other devices but it's easiest to import your models on a PC and just share them with mobile devices using an Arkio meeting.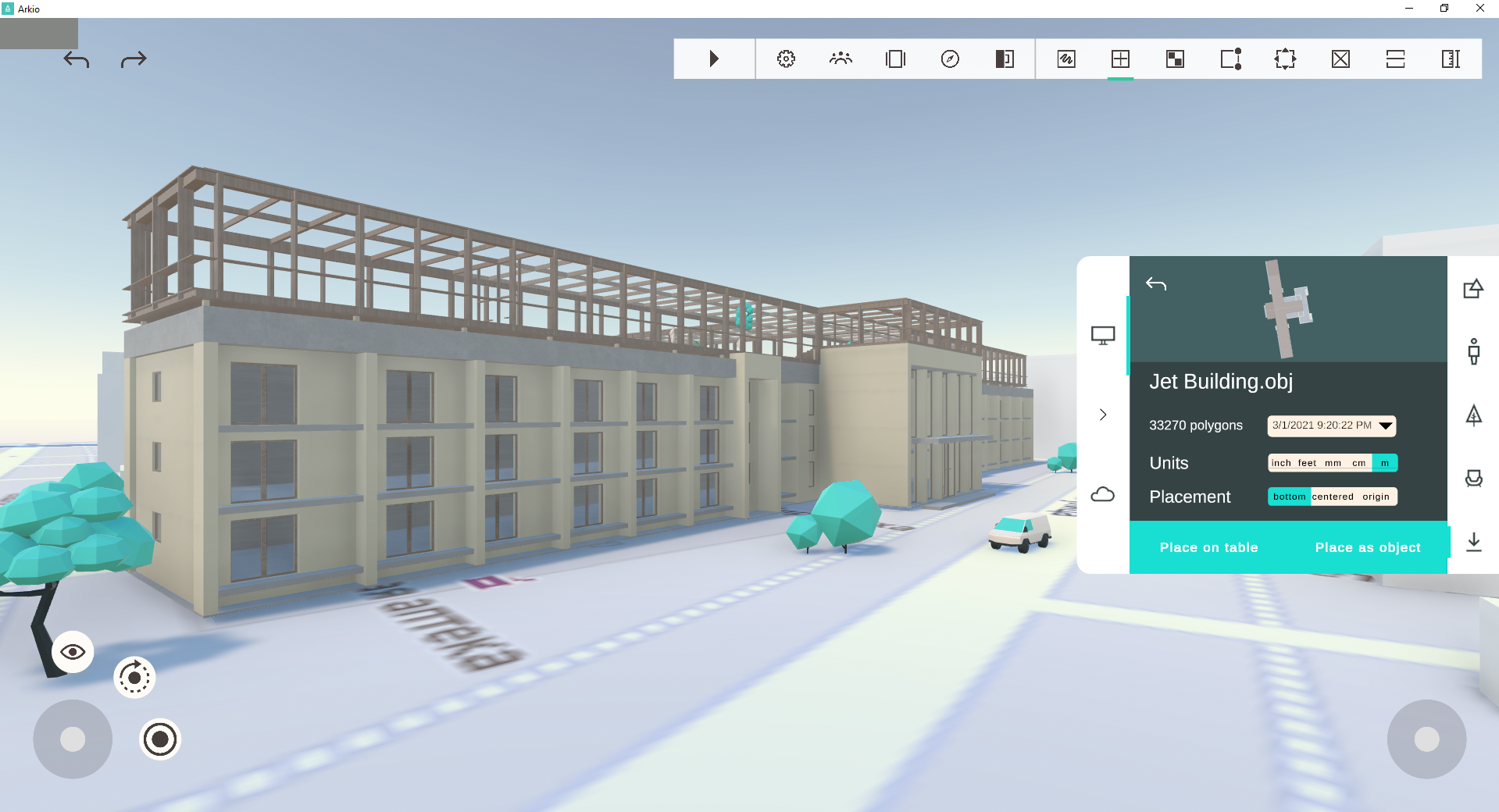 In Arkio the model can either be placed on the table - as fixed non-editable reference with the same coordinates (to draw a new design on), or as a free-to-place editable object (e.g. a piece of furniture, tree of building that you want to move, or place in the scene multiple times).
If you want to work on fixed models that cannot accidentally be moved or if you plan to export your creations back to Rhino you want to choose the "Locked at Origin" to use the same coordinates.
Model Updates
When a change is made in Rhino you can overwrite your model with a new version in Arkio at runtime by just hitting export again. When a model is imported in Arkio it shows a spinning indicator on the file overview. When the new version of the model is available a yellow update icon will show above the model in the Arkio scene. Clicking this yellow icon with your VR laser or mouse will update that model with the new version. You can update all the imported geometry in your scene at once by clicking on the "update all" icon on the top left of your import drawer.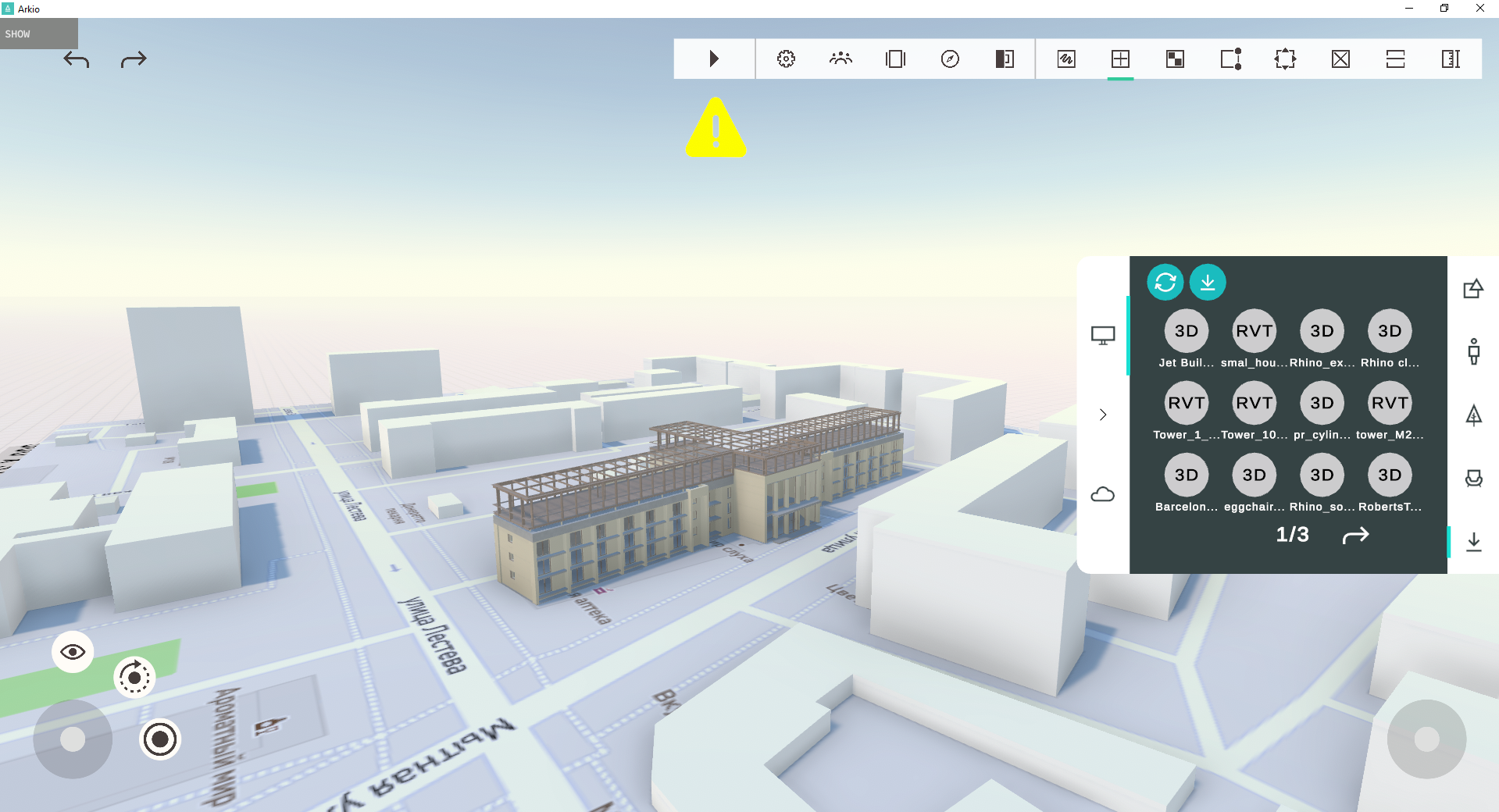 Arkio will keep the old versions of your imported models available so you can always revert back to an older version when needed for e.g. comparing design options. You can access all the older loaded models in the import model dialog. If you select an older import date from the dropdown you can update the model placed in the scene by clicking "Update in scene"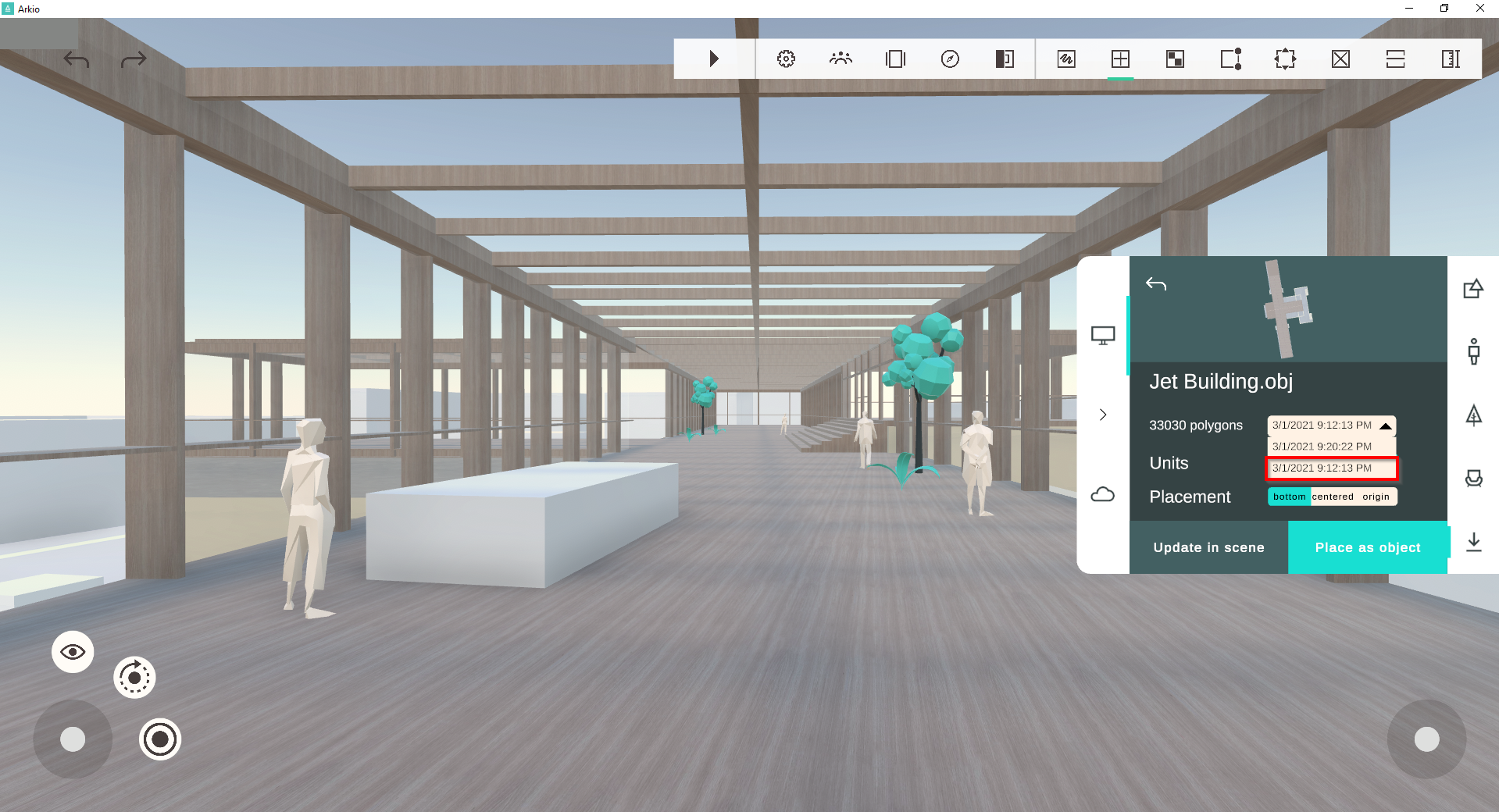 Arkio to Rhino
To import your models from Arkio back to Rhino you can open the design option models overview and click the export button. Here you can prepare the models to various supported tools including Rhino. Once the export is made for Rhino an export confirmation will be shown on your models.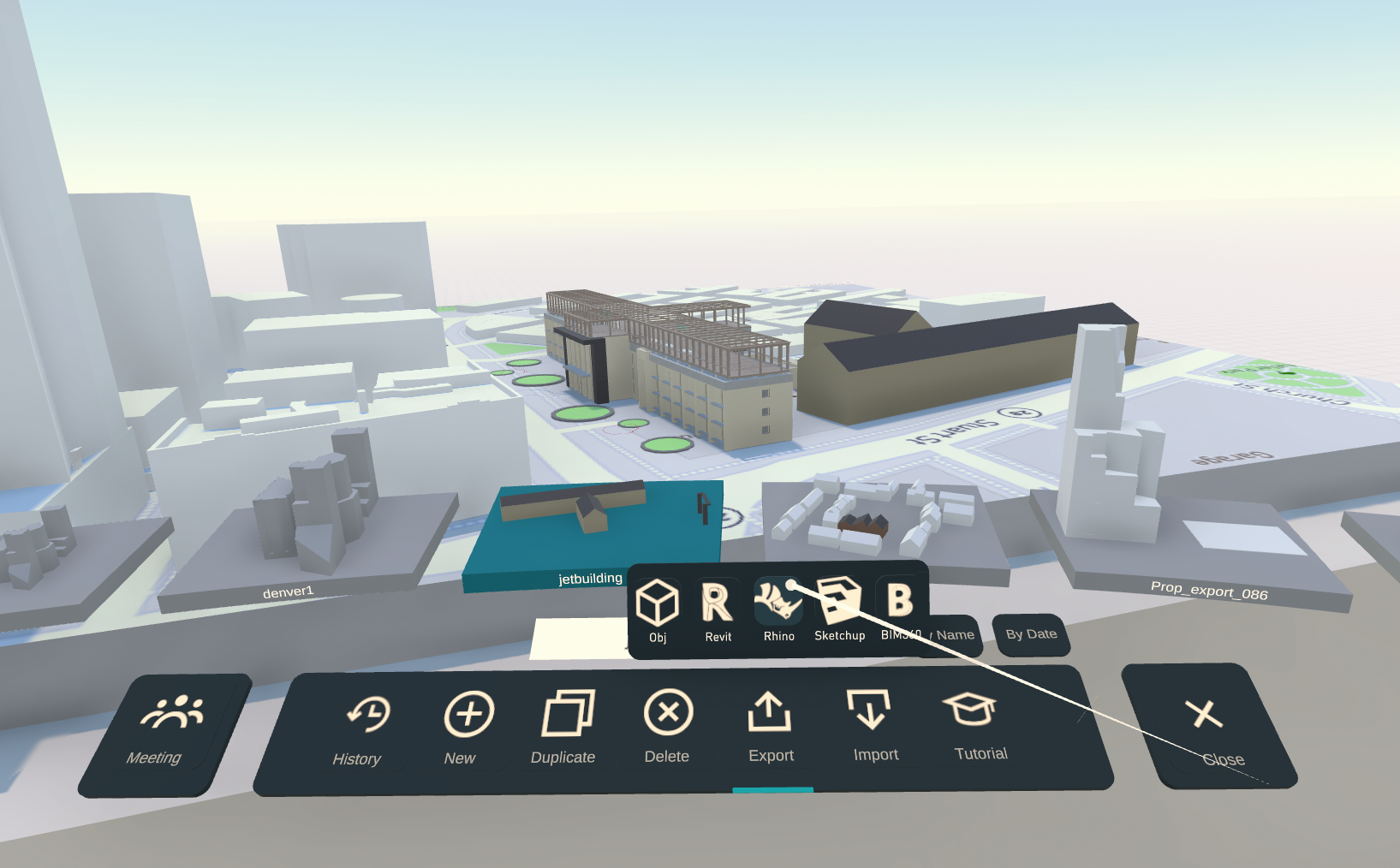 Back in Rhino you can open our ArkioRhinoPlugin toolbar import to go to the Arkio/Export/Rhino folder and select the file you want to import. All Arkios geometry, components, sketches and 3D map buildings will then be converted to Meshes in Rhino.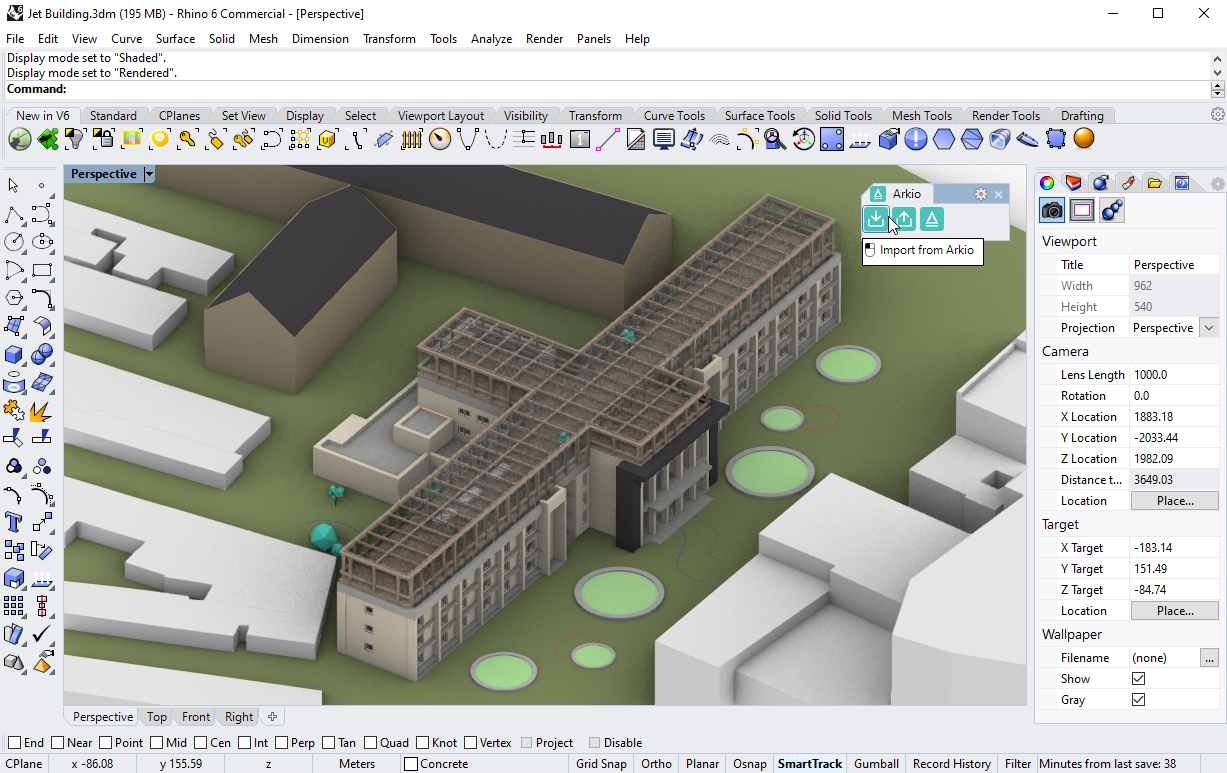 If you like to Arkio geometry into editable Rhino geometry you can also use our close intergration with Autodesk Revit to convert your Arkio scene to solid Revit families first and then export to a DWG. You can read more about this workflow here.
Known issues/limitations:
Loading of heavy files is not recommended, try to keep your models below 250K polygons to avoid crashes and VR performance loss when working with mobile devices like the Oculus Quest.

If you experience issues loading your models try to load the OBJ exports in the Windows 3D viewer, 3DSMax or Rhino to see if the files load well there and what geometry might be causing the issue.



Sometimes failing imported models affect the loading of other files. Cleaning your temporary ResourceCache files can solve most issues.

Models from Arkio don't export to native BREP geometry and components in Rhino yet. This will be added in the next months.
Best practices Rhino modeling
Arkio currently only supports one-sided faces please make sure your Rhino models have closed polysurfaces and your single face surfaces are modeled with the normals facing outward to prevent missing faces or inverted looking shapes.

Try to reduce surfaces with a high number of Isocurves as these are complex and will result in unnecessary high polygons. Rebuild surfaces with cut geometry or more than 5 U/V isocurves