Our Revit plugin allows you to easily export Revit models to Arkio and import them back with all your markups and geometry as native Revit elements. Revit 2019, 2020, 2021, and 2022 are currently supported, more versions will be added in the coming months. The Arkio Revit plugin is included in our Windows installer found on our website.
Revit to Arkio
To export your models from Revit you need to have the Arkio plugin installed, activate a 3D view that you like to export, and press the Export button. This will show a dialog where you can fine-tune your export settings (default settings will work well for most models).
Level of Detail - determines how much your curved objects (like handrails and chairs) will be optimized to lower polygons. If you are planning to work with your Revit models on less powerful devices like a smartphone, tablet, or the Oculus Quest we recommend putting this slider to low so the model can be loaded correctly on those devices
Loading Revit exports in Arkio
The Revit project and view name will be automatically saved (or overwritten) to the Arkio import folder. Next time you will start Arkio or when you click the refresh button, the latest available models will be loaded in your create>import drawer. Clicking on the file name will open a sub-dialog with more information about that model and allows you to place the model on the table. (or update the currently loaded model to a newer version).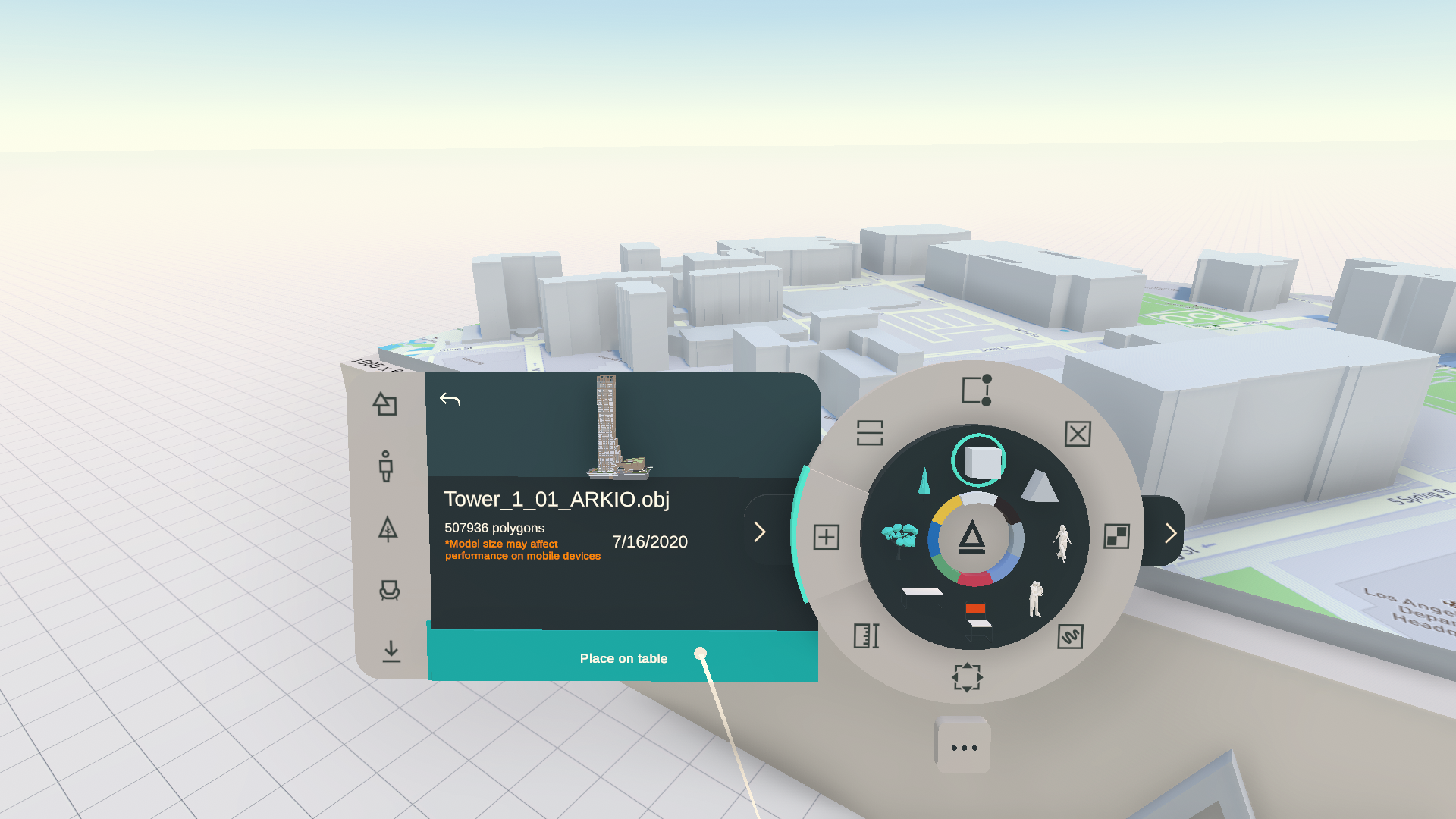 Models will be loaded in Arkio based on the Revit Origin and Project North rotation so the project is loaded with true north on the table and the map-feature can be used to load surrounding buildings. When you load a Revit model in the scene the default modeling axis is changed to the Revit project North orientation so the objects you add in Arkio will align to the Revit model. (modeling on top of the Revit geometry is not aligned to this axis yet)
If the Revit model has geometry modeled under the Revit Origin the overlapping terrain can be cut away by creating a void around the model's footprint using the create cube tool
Making the void slightly bigger than the model enables teleporting and modeling on this underground geometry.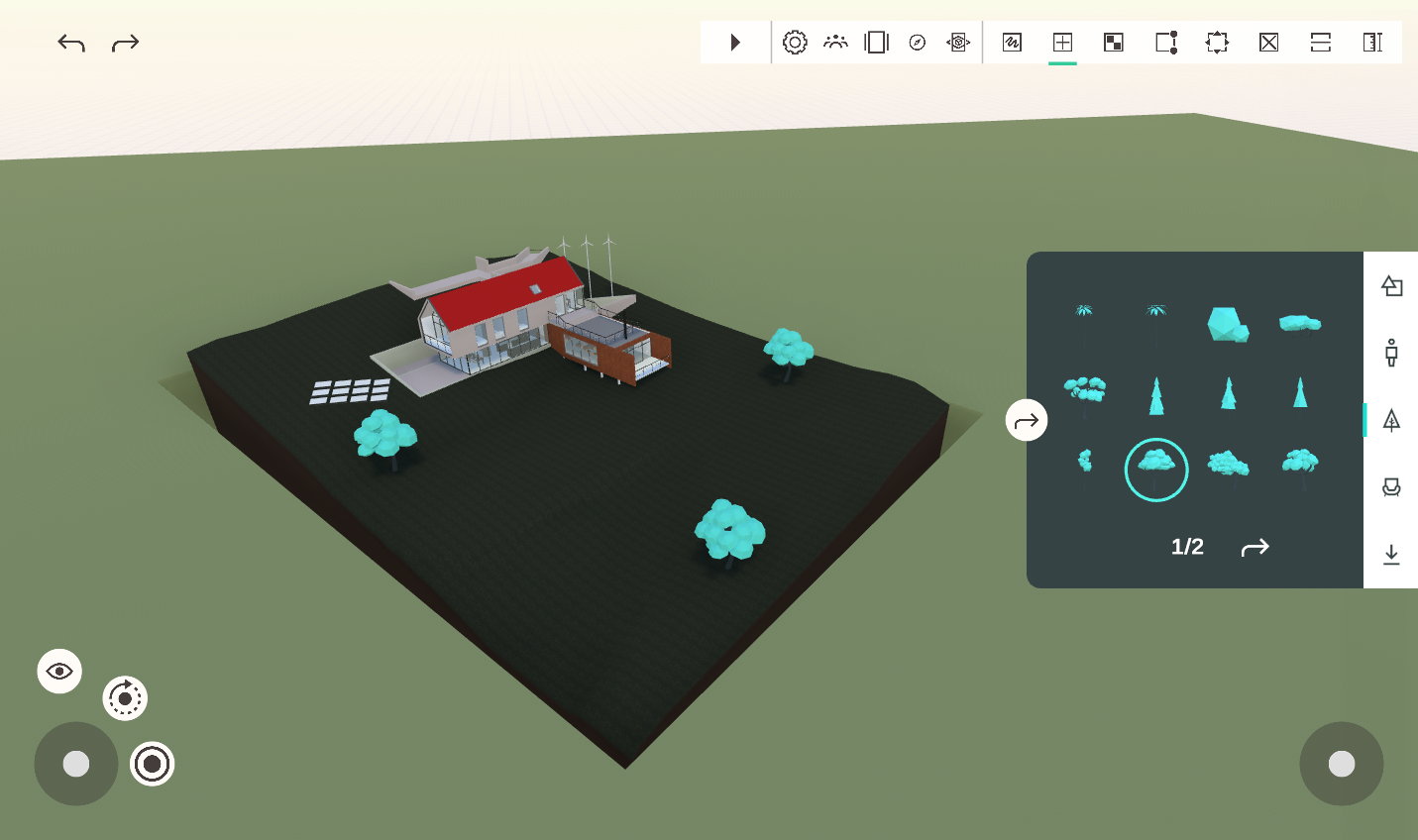 Updating a Revit model in Arkio
If you export the same Revit file again (project and view name) these imports will be shown separately in the import browser. Every time you restart Arkio or press the refresh button on your import drawer it will scan for new or replaced imported files and add them to your browser. You can replace models in the scene by going to the correct model in the drawer, check the time stamp, and press the update button.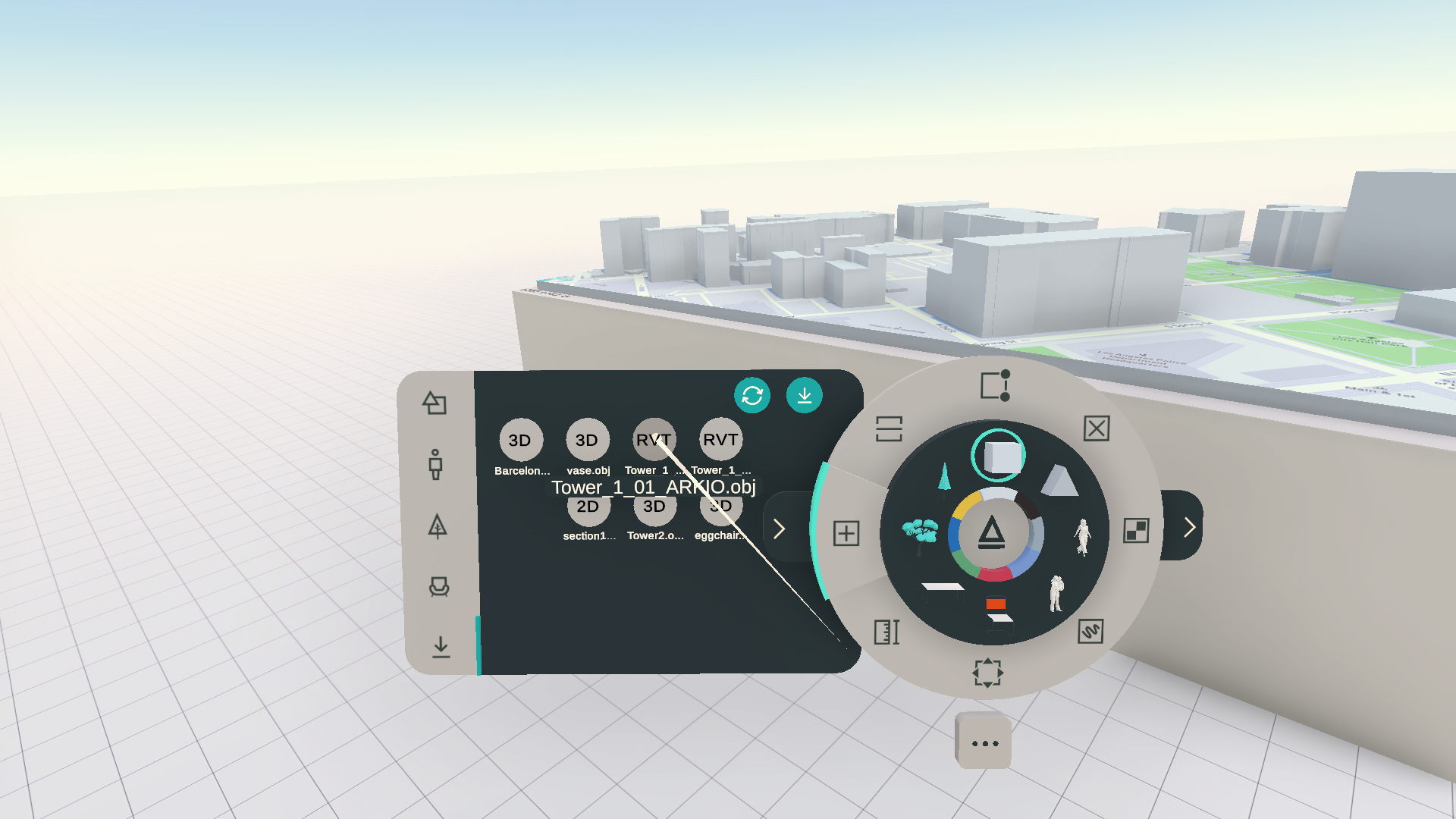 Arkio will notify you when there is a newer model with the same name available by showing an update loading cloud. you can press the update all button in the import drawer to update all files loaded in your Arkio scene to the latest available version, or simply click on the yellow update available icon above a previously placed model to update it in the scene.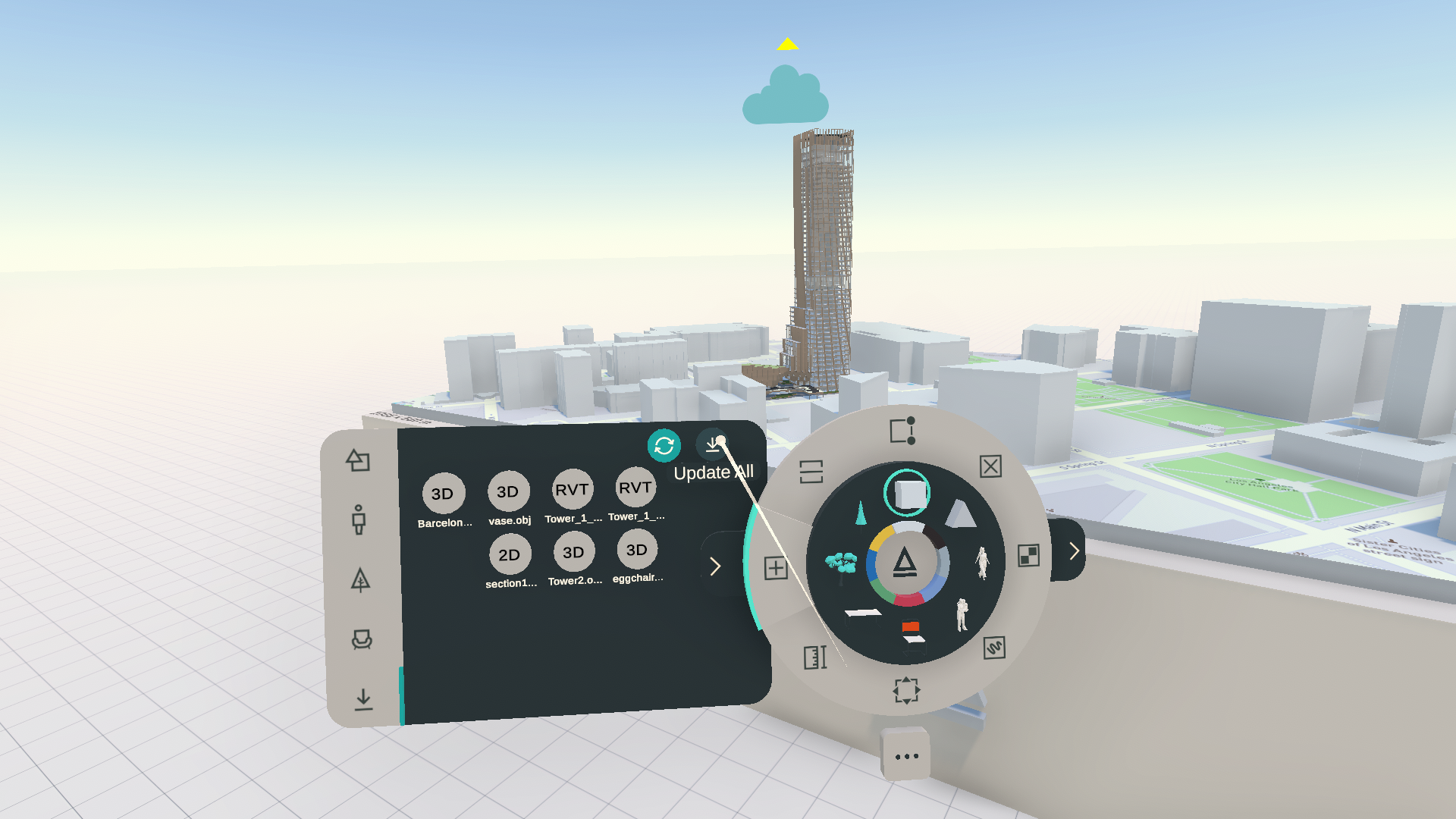 Arkio to Revit
To export your active scene back to Revit you can use the export to Revit button in the model carousel.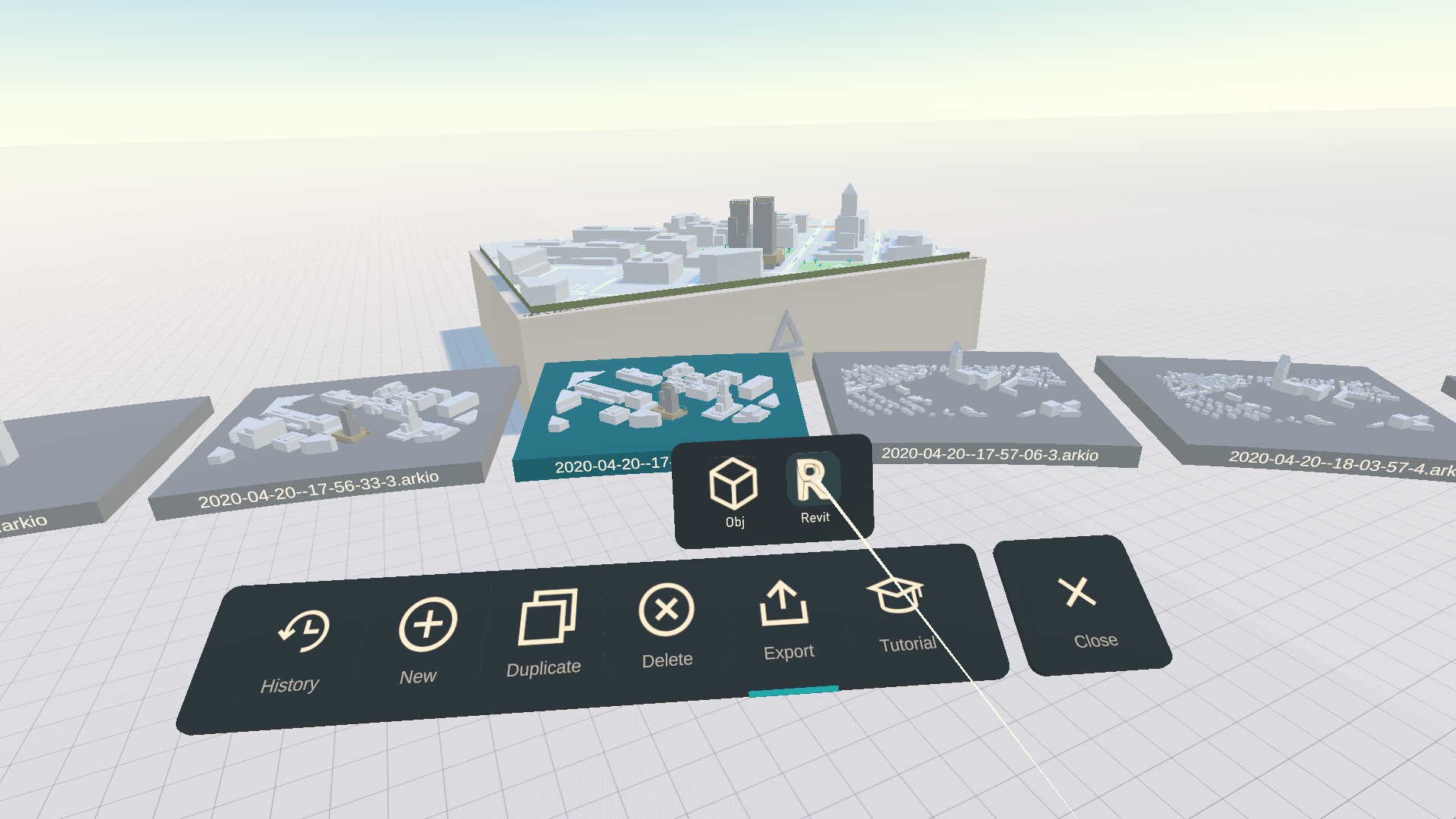 This will create a new .arkiorvt file on the following location:
Windows
%userprofile%\Documents\Arkio\Export\Revit
Quest
Quest\Internal shared storage\Arkio\Export\Revit
iOS & Android
Files\Arkio\Arkio\Export\Revit
Once in Revit, you can import that file into in the current Revit project by using the Arkio plugin found under Add-Ins (after installing it)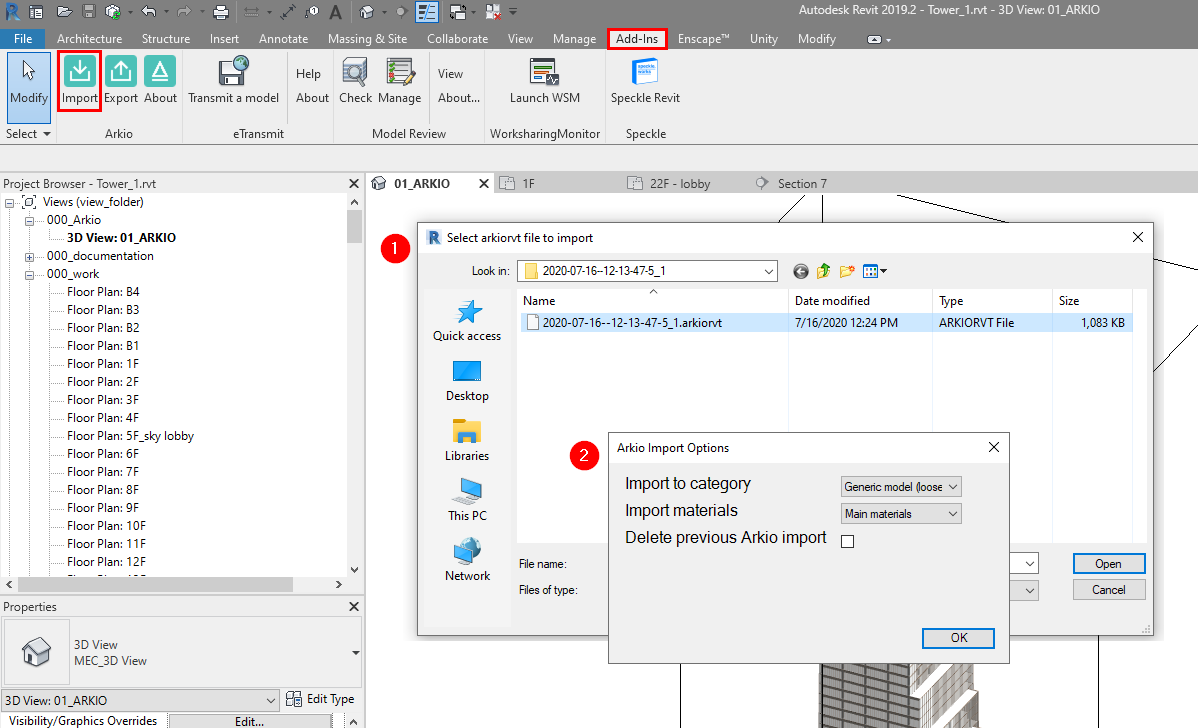 Category - Arkio shapes can be loaded as Generic Models or Masses in Revit. The biggest difference between the two is that Generic Models will load as individual stacked shapes like in Arkio with all the correct materials and program information attached.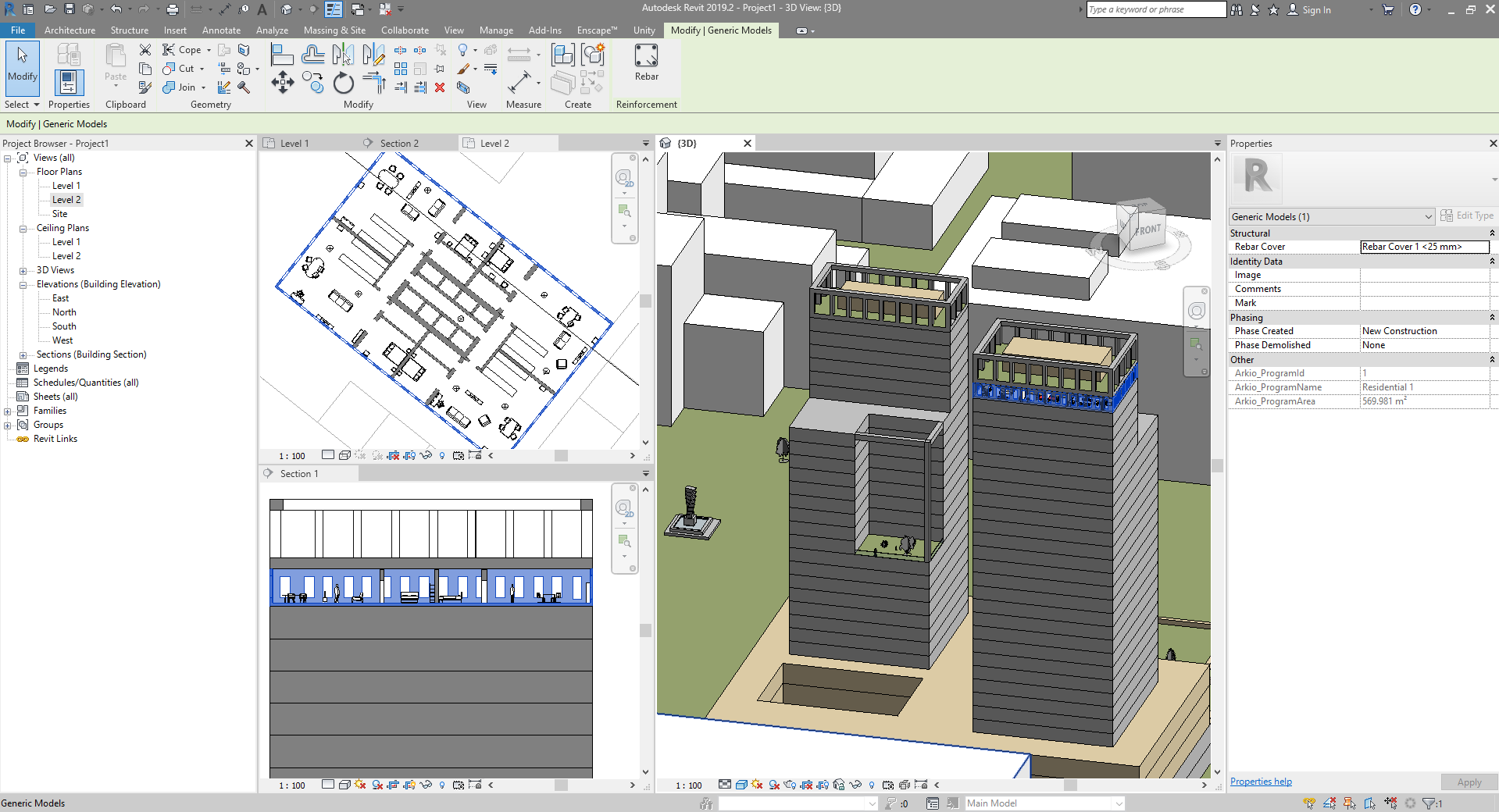 When choosing to import as Masses, Arkio geometry will be joined together into individual buildings masses that can be used for gross calculations and other Revit massing functions like generating facades from faces.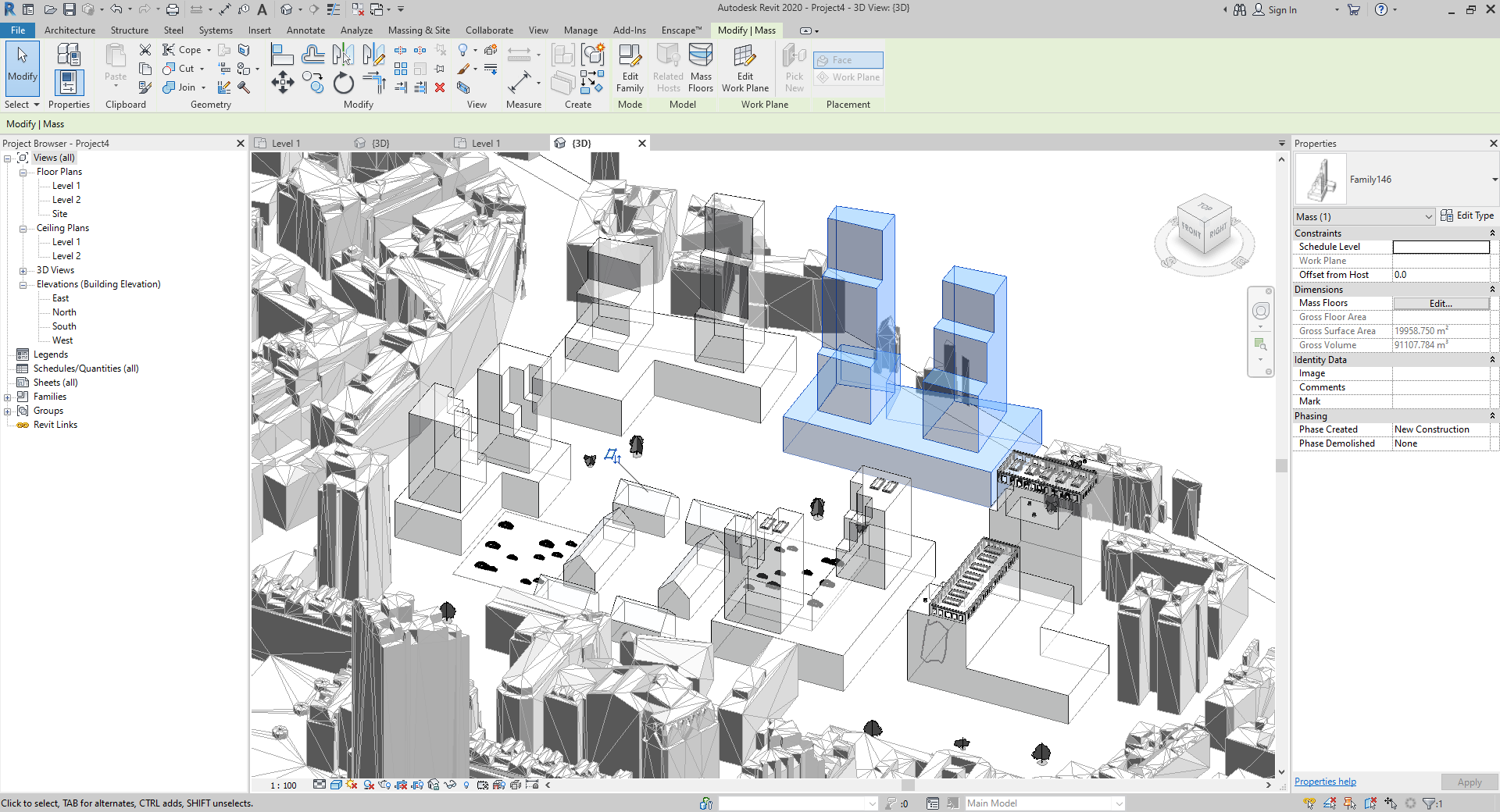 Materials - The main materials of arkio can be loaded, the program assigned colors or everything can be loaded without materials (white)
Delete previous - When there are already Arkio components loaded in the scene from a previous import and you want to load in a new proposal without conflicts you can decide to delete all the previously placed elements. If you want to keep both the old and new import you can just load it without this setting
Managing your Arkio imports
We suggest you create a special Workset or design option when you want to load several Arkio imports as this will make it easier to organize or switch between your different design proposals. It will also make it easier to select and filter all the Arkio geometry and make it conform to your company Revit modeling standards.
Working with the imported Revit geometry
All Arkio shapes will be converted to native volumetric Revit geometry that can be used as 3D design reference or a base for replacing custom content with your own Revit families. Imported models placed in Arkio will be loaded as Revit families that can be updated or changed to other families. Even sketches made on the geometry during an Arkio session will be loaded in Revit for design communication.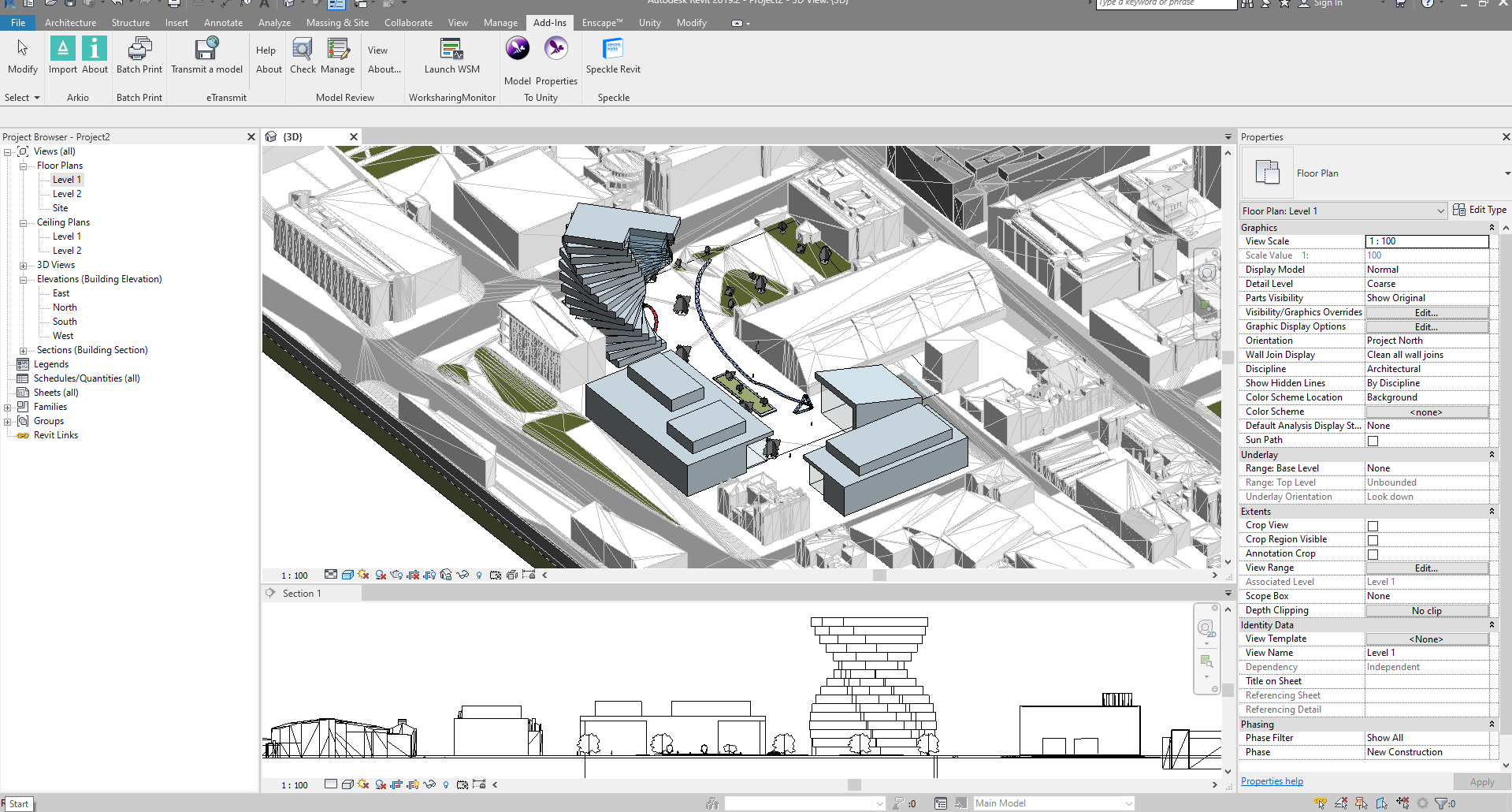 Arkio props will be exported as native optimized Revit families with the corresponding position and rotation. These simple families are compatible with Enscape and can be further customized once loaded into your projects.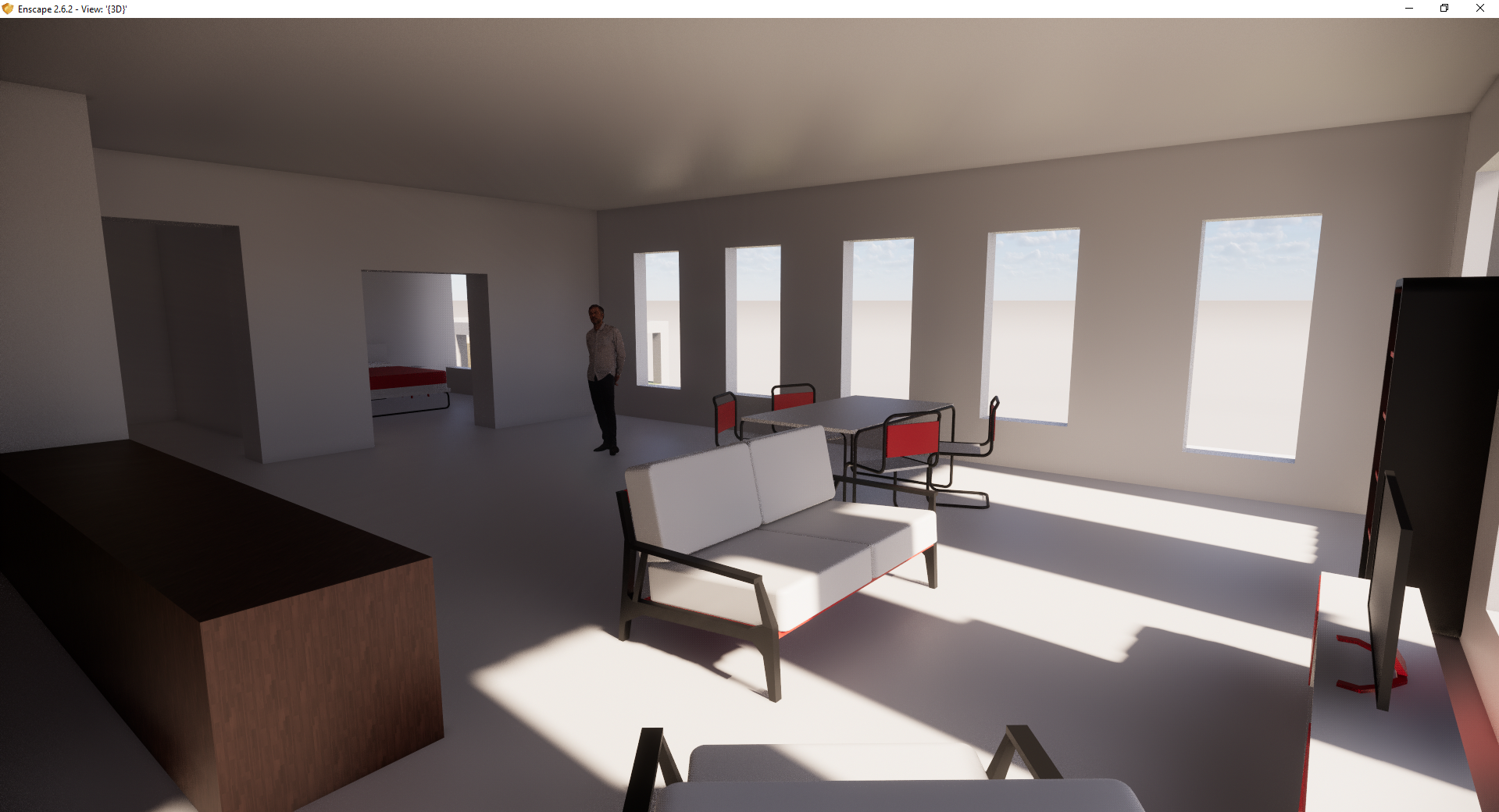 Program data gets imported as property fields when importing to Revit Generic models. Using a basic filter and a Generic Model schedule the Area outcomes of Arkio can be easily transitioned into your own Revit schedules and reports.