You can import your own 3D models (.obj format) easily into Arkio. Loading of models in Arkio must be done before you start the app by placing the .obj, .mtl and all texture files in the following paths:
Windows
%userprofile%\Documents\Arkio\Import\Models
Quest
Quest\Internal shared storage\Arkio\Import\Models
iOS & Android
Files\Arkio\Arkio\Arkio\Import\Models
At the start of Arkio, files placed in the import folders will be converted and show in the place imported asset drawer by filetype and name. If you like to refresh newly imported models (e.g. you export an updated model from Revit while Arkio is still running) you can use the refresh button to scan and add the new files on runtime.
If you hover the icon the full name of the import will show and clicking the icon will open a sub dialog where you can define the import settings and method of loading your objects. You can place it as a normal Arkio element (right button), or use it as a table reference model (left button).
There are two settings for the imported model before placing the import in the scene. You can set imported model units: inch, feet, mm, cm, m model placement point: Bottom (Z lowest geometry, XY centered), Centered (Z origin, XY centered), Origin (ZXY origin).
Place as object - Lets you place the import like other Arkio 3D elements. Pressing the trigger will show a preview of the object that can be rotated left/right using your thumbstick. When releasing the trigger the object will be placed on that location. Pressing the trigger again will start placing another instance of that object. Selecting another prop or tool will cancel the placing as an object.
Place on table - This will load a no longer editable version of that model on the table and resize the table accordingly. Models loaded on the table form a base that cannot accidentally be moved this makes them ideal for reference models of cities, buildings or photogrammetry scans.
Make sure imported models don't exceed 250.000 polygons to avoid crashes on your mobile devices or uncomfortable low framerates in your VR experience, we put together a small workflow to help you prepare your 3D models for VR & mobile
| | | |
| --- | --- | --- |
| Platform | Max. number of polygons | Max. file size |
| Windows PC | 20.000.000 | 2.000 Mb |
| Oculus Quest | 450.000 | 90 Mb |
| iOS | 900.000 | 160 Mb |
| Android | 600.000 | 120 Mb |
Loading indicators
When importing files, the following icons will help indicate what is currently happening to the assets in the scene. Models imported in Arkio are stored locally and will only be shared in a meeting with participants that join the same Company ID and Room at the same time. When the last user exits the meeting with this name the design options and imported assets will no longer be available for new users to download.
The following three icons will mostly be temporarily shown when loading new assets locally or in a meeting as they indicate the files are currently being loaded or prepared.
| | | |
| --- | --- | --- |
| | | |
| File not found | Loading locally | Loading from server |
| File not available (yet) | Loading from memory | Loading from Arkio server |
The following notifications will remain in the scene above the imported object as they indicate a newer version of that asset is available or the current asset will be too large to fully load for your device
| | | |
| --- | --- | --- |
| | | |
| Update available | Partly loaded | Not loaded |
| New local version available, click or update all to replace | Model too heavy for this device - can only partly be loaded | Model too heavy for this device - can not be loaded |
Updating a Loaded file
You can update the imported files already loaded in your scene (e.g. a table placed Revit model or some custom design chairs you place in your scene as objects) by overwriting your original OBJ 3D model or by exporting the same view/file name from Revit/Rhino using our plugins.
Arkio will automatically refresh the imports while the app is running (on Windows) and indicates when there is a new version of a file available using a yellow triangle.
Clicking this yellow icon with your mouse or VR laser will update that model with the new available version. You can also update all the imported geometry in your scene at once by clicking on the "update all" icon on the top left of your import drawer.
Arkio will keep the old versions of your imported models available so you can always revert back to an older version when needed e.g. for comparing design options with others in a meeting. You can access all the older loaded Arkio models in the import dialog grouped by the same model name. If you select an older import date you can update the models placed in the scene by clicking "Update in scene"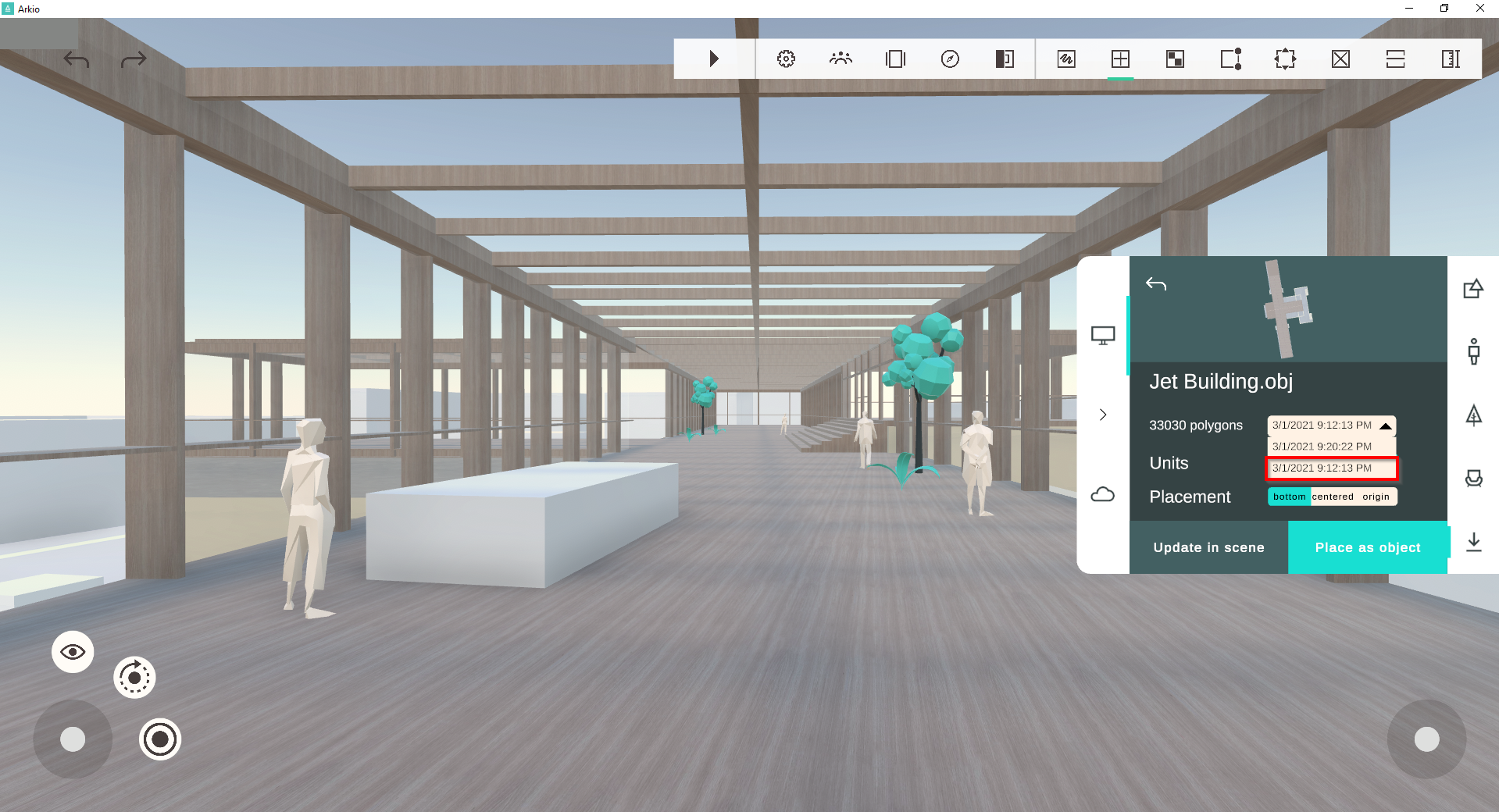 Known issues:
Loading of heavy files is not recommended, try to keep your models below 250.000 polygons to avoid crashes and VR performance loss when working with mobile devices like the Oculus Quest.

If you experience issues loading your models try to load the OBJ exports in Windows 3D viewer, 3DSMax or Rhino to see if the files load well here and what geometry might be causing the issue.

Depending on your model file size it might take a while for other users in a multi-user session to see your 3D models

Older loaded models will keep showing in your import folder until you Clean your temporary ResourceCache files
Sometimes imported models can corrupt and affect the loading of other imported files. Cleaning your temporary ResourceCache files can solve most issues