One of Arkio's main features is the possibility to design in real-time with up to 24 users from anywhere in the world. To start a multi-user session, select the meetings icon. Once you are in a meeting all your geometry, the imported images, 3D models, programs, and maps in your scenes are shared with meeting participants so everyone's always looking at the same scene and can make new suggestions in real-time. All modeling operations in meetings are simultaneous, so modeling operations done by one user can be undone/redone by other editors.
When starting or joining a meeting the following details need to be filled in:
Username - your name that will be displayed above your head to other users in the meeting
Room Name - A meeting name to share with other people (needs to be at least 3 letters)
Room Password - A password to access this meeting for more login security
All users must enter an identical Room Name and Password to join the same meeting. (non case sensitive)
The first user to join a meeting becomes the Meeting Host who has the ability to manage the meeting and switch between scenes. All active users in a meeting will be visible in the multi-user panel and in the scene by the corresponding color and name tag. Pro and Enterprise users will become the meeting host when entering a room that already has free users and can switch the host to other licensed users.
Free and Pro meetings
When you start a meeting as a Free user 3 other users can join you for a 20-minute meeting with 4 editors. This allows you to share models between your devices and explore Arkio with your friends to experience collaborative design. When a Plus user joins the time limit for your meeting is removed and you can edit with up to 4 editors in that meeting.
If you join a meeting with a Pro or Enterprise user you are entering a professional room where a maximum of 24 people can be active at the same time. If you are a Free or Plus user you will be a viewer in this meeting and need to wait for an Enterprise user to give you edit rights. If you want to edit in these meetings or host large collaborative meetings yourself you will need an active Pro, Enterprise, or Trial license. You can learn more about our free trial and subscriptions on our help pages.
Meeting settings
You can mute yourself in a meeting by selecting the microphone icon behind your name. If you don't see your mic icon light up while talking your microphone is likely not set up correctly. This can be changed by selecting meeting settings in the top left corner. You can also gather all users for guided tours and jump to other users directly. If you don't hear other users please make sure your device's speaker settings are properly set to the headset and make sure your sound is turned on.
Edit rights
Pro, Enterprise users always have edit rights in a meeting and can host meetings with up to 24 users. When a free user joins a meeting with a pro user they will convert to a viewer that can only talk, move around and add temporary sketches and dimensions to the model.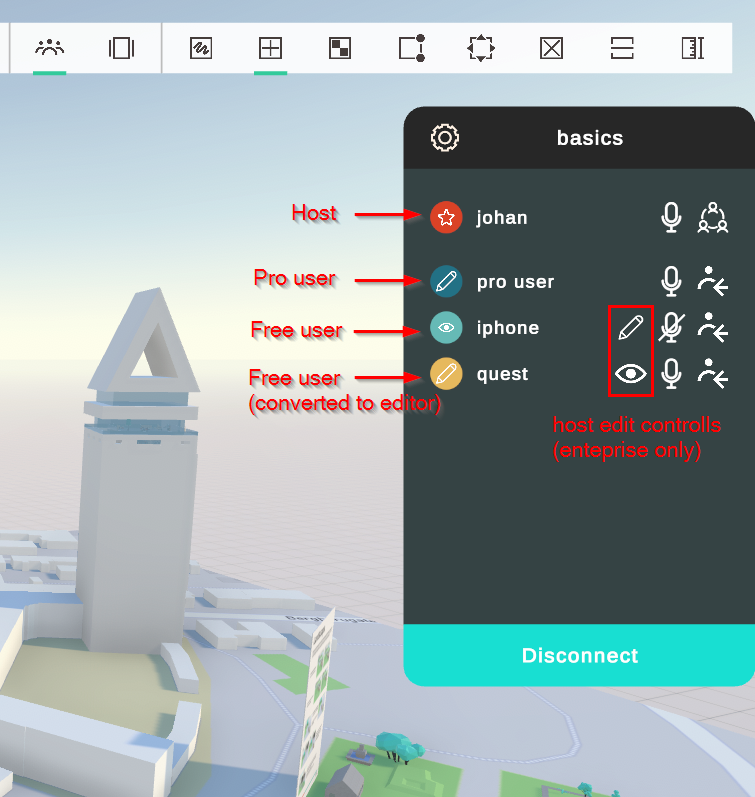 If you have an Enterprise license and are the meeting host you can temporarily promote free users (without a license) to editors so they can use all Arkio's modeling tools during that meeting. This is great for engaging with your guests and gives you more control and flexibility over your meetings and presentations.
In the meeting settings tab, you can find the number of available guest editors for your meeting next to other settings like your microphone and the password of your meeting.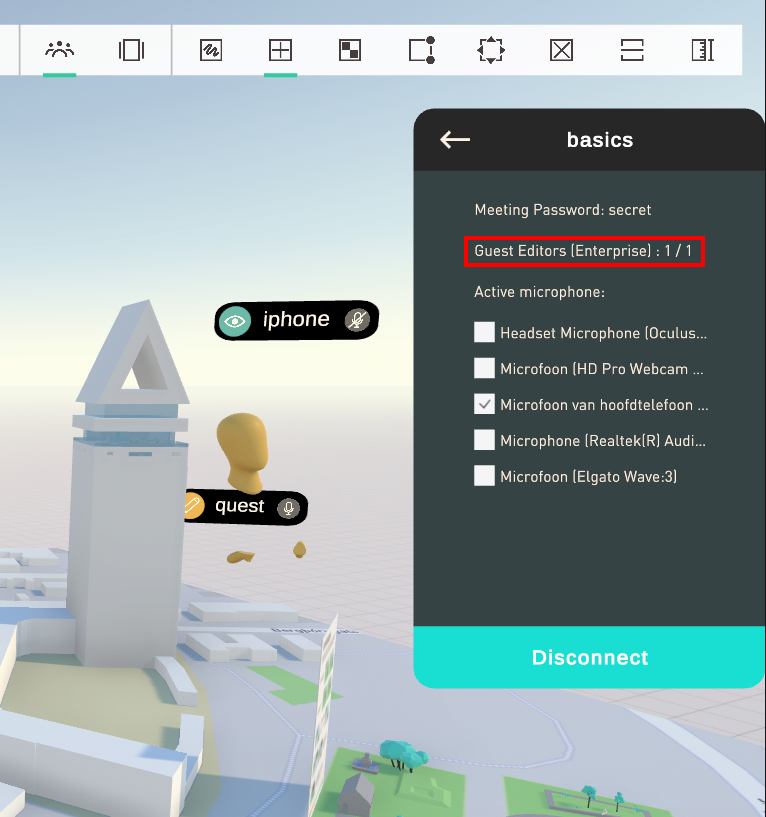 Data Security
Arkio has a unique security model as we don't store your models in a cloud environment but all your Arkio scenes, imported resources, and settings are stored on your local device(s) Your project files can only be accessed via the local Arkio app that you worked on and models are not shared across the Internet unless you specifically choose to share them with selected other users during an Arkio meeting.
In case of an Arkio meeting, all the modeling operations and imported resources are sent to other Arkio devices in the meeting fully end-to-end encrypted. You can compare this a bit to peer-to-peer sharing without a server. Your projects don't get stored on the internet as one model but are sent as edit operations and encrypted resources that get rebuilt on the other device and together form your Arkio project. This makes it pretty hard to intercept and reconstruct the Arkio model by unwanted guests.
For collaborations with Arkio, you are in control over the security and confidentiality of your meetings as you can choose the complexity of your room name and password. Making it nearly impossible for unwanted guests to join at the exact same time. For high-security meetings, we recommend long meeting names and passwords of at least 10-12 characters long.
Troubleshooting
If you are not seeing other users while using the same Meeting name and Password you might have a different spelling for the room name and password (try to use a simple name without a password to confirm). You might be on an older version of Arkio and need to update the app or you might experience internet connection issues that you can try to overcome by joining another (wireless) network.