One of Arkio's main features is the possibility to design in real-time with up to 24 other users from anywhere in the world. To start a multi-user session, select the meetings icon in the utility menu or screen UI. Custom content like locally loaded images, 3D models, programs, or maps are all shared in real-time with meeting participants so everyone's always looking at the same model and can make new suggestions. All modeling operations in meetings are simultaneous, so modeling operations done by one user can be undone/redone by other editors.
When starting or joining a meeting the following details need to be filled in:
Username - your avatar name that will be displayed to other users in the meeting
Room Name - Give your meeting a name to share with other people (needs to be at least 3 letters)
Room Password - Add a password to this meeting for more login security (pro feature)
All users must enter an identical Room Name and Password to join the same meeting.
The first user to join a meeting becomes the Meeting Host. Other users in the meeting will not be able to switch between scenes unless they become the Meeting Host. Plus, Pro and Enterprise users will default to being the meeting host and can request to be the host. Active users in a meeting will be visible in the multi-user panel and in the scene by the corresponding color and name tag.
Free and pro meetings
When you start a meeting as a Free user 3 other users can join you for a 20-minute meeting with 4 editors. This allows you to share models between your devices and explore Arkio with your friends to experience collaborative design. When a Plus user joins the time limit for your meeting is removed and you can edit with up to 4 editors in that meeting.
If you join a meeting with a Pro or Enterprise user you are entering a professional room where a maximum of 24 people can be active at the same time. If you are a Free or Plus user you will be a viewer in this meeting and need to wait for an Enterprise user to give you edit rights. If you want to edit in these meetings or host large collaborative meetings yourself you will need an active Pro, Enterprise, or Trial license. You can learn more about our free trial and subscriptions on our help pages.
Meeting settings
You can mute yourself in a meeting by selecting the microphone icon behind your name. If you don't see your mic icon light up while talking your microphone is likely not set up correctly. This can be changed by selecting meeting settings in the top left corner. You can also gather all users for guides tours and jump to other users directly. If you don't hear other users please make sure your device's speaker settings are properly set to the headset and make sure your sound is turned on.
Edit rights
Pro, Enterprise and Trial users always have edit rights in a meeting and can host meetings with up to 24 users. When a free user joins a meeting with a pro user they will convert to a viewer that can only talk, move around and add temporary sketches and dimensions to the model.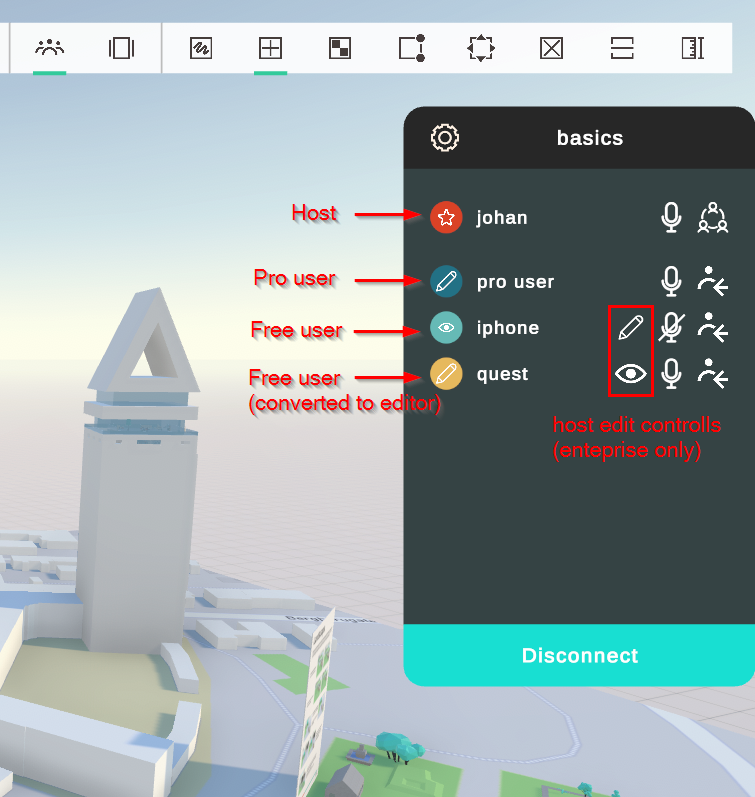 If you have an Enterprise license and are the meeting host you can temporarily promote free users (without a license) to editors so they can use all Arkio's modeling tools during that meeting. This is great for engaging with your guests and gives you more control and flexibility over your meetings and presentations.
In the meeting settings tab, you can find the number of available guest editors for your meeting next to other settings like your microphone and the password of your meeting.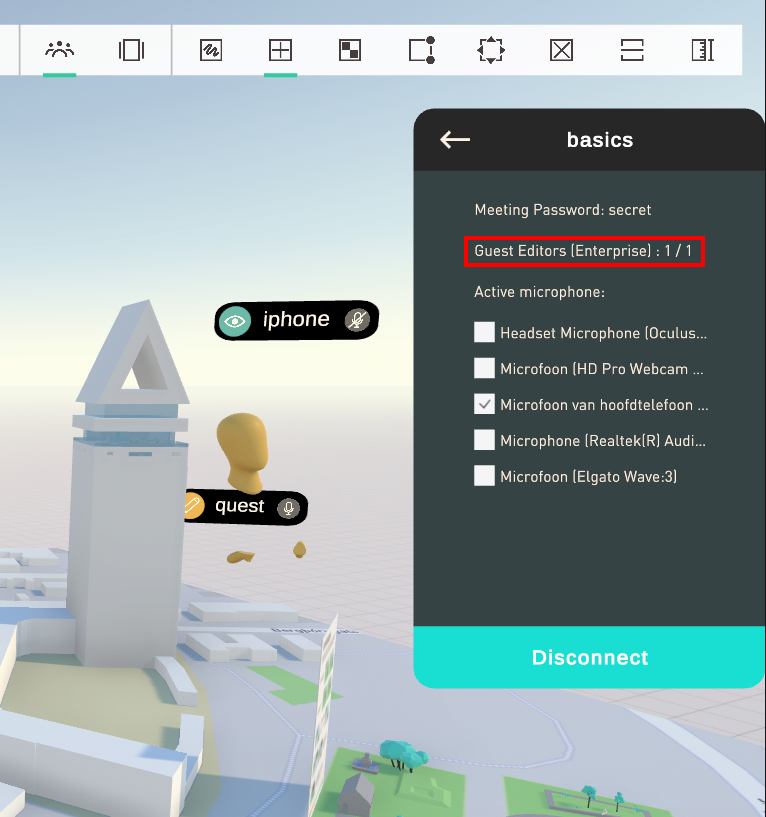 Troubleshooting
If you are not seeing other users while using the same Meeting name and Password you might be on an older version of Arkio and need to close and update the app or you might experience internet connection issues that you can try to overcome by joining another (wireless) network.