Using edit you can stretch features of shapes and props created with Arkio. This affects the objects hosted on that shape and re-positions or stretches them to fit with the new size and position changes. As volume parent-child relations can be complex it sometimes can have unusual results. Reducing the size of the child's solid and void geometry before reducing the parent prevents this from happening.
The following features of geometry can be edited by laser or by touching the feature by hand. Like using the move tool the laser gives you more control over the edit by defaulting to orthogonal stretching that makes it easy to edit all features of the shape without skewing/distorting it.
This distortion can be toggled on/off using the wristband so also more complex free-form edits can be investigated by laser. Using your hands to edit the shape defaults to free-form editing for edges and corners so you can literally use both hands to 'sculpt' designs to the required shapes

Editable features
Face edits - 1 direction orthogonal stretching and automatically glue to other faces in the scene when snapped together. This snapping is also possible for non-orthogonal intersections (useful for connecting non-orthogonal building parts). Moving or deleting one of the objects will break this relationship.
Edge edits - 2 directional orthogonal stretching (using orthogonal mode) useful to quickly adjust the length x width of a volume without changing its height. In non-orthogonal mode, the editing of edges is useful to create roof slopes or distort the building plan.
Point edits - 3 directional orthogonal stretching (orthogonal mode), useful to quickly resize volumes in all directions similar to the create tool. When in the free-form mode it can be used to distort the object and make them into spiky or slanted components.
symmetrical face edits - 2 directional orthogonal stretchings (orthogonal mode), useful to quickly resize volumes in two directions. When used in the free-form mode it can be used to distort the object into pyramid shapes.
Manual dimension inputs
With version 1.2 of Arkio, we added the long-requested feature to manually fill in dimensions so you can work with more precision and update your geometry to exact sizes. To use this feature you can click on a feature or finalize a move or edit operation and then hover on the temporary dimensions that stay visible in the scene. This will highlight the dimension and allows you to input a custom size in metric or feet (depending on your unit settings)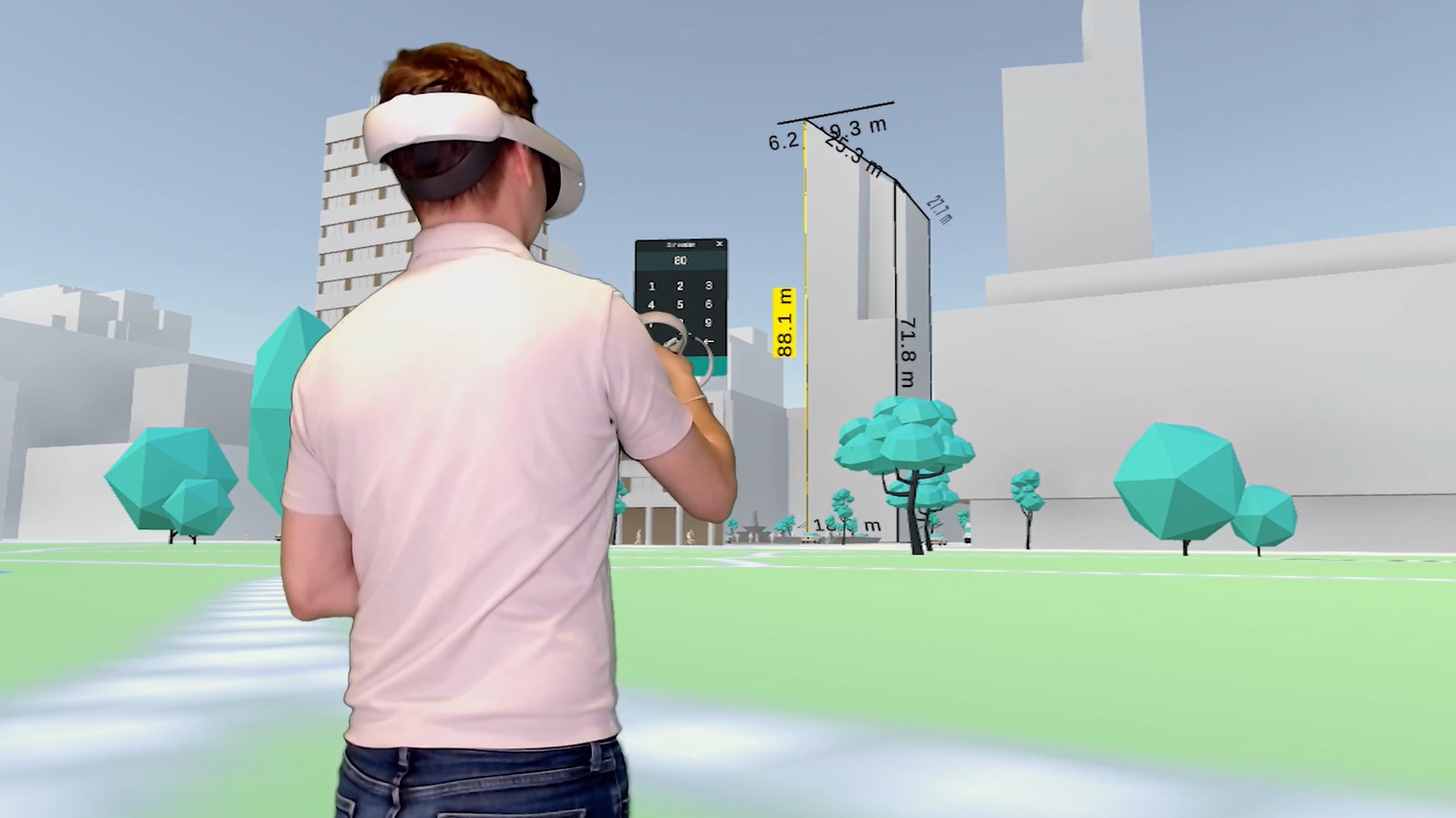 Aligning and joining faces
When editing geometry Arkio will automatically show guides to align your creation to nearby geometry and choose grid steps depending on your distance to the object. More on this can be read in the guides and grids chapter.
When features of other shapes are highlighted during editing this will automatically join the selected face to the highlighted faces of the other geometry. The resulting child object will then move and stretch with the parent when that object is adjusted. To break joined face constrain you can edit the child feature again and move it away from the snapped feature or pick up (move) the child geometry you don't longer want to be attached to break all its constraints.
Editing joined faces
When faces are joined together they can be edited all at once by pointing at one of the faces holding you hand in a normal position. If you only want to edit the top part of all joined faces you can rotate your wrist up and hover the lowest feature you like to edit. If you only want to move one of the faces you can rotate your wrist down and hover the feature you like to move without affecting other faces.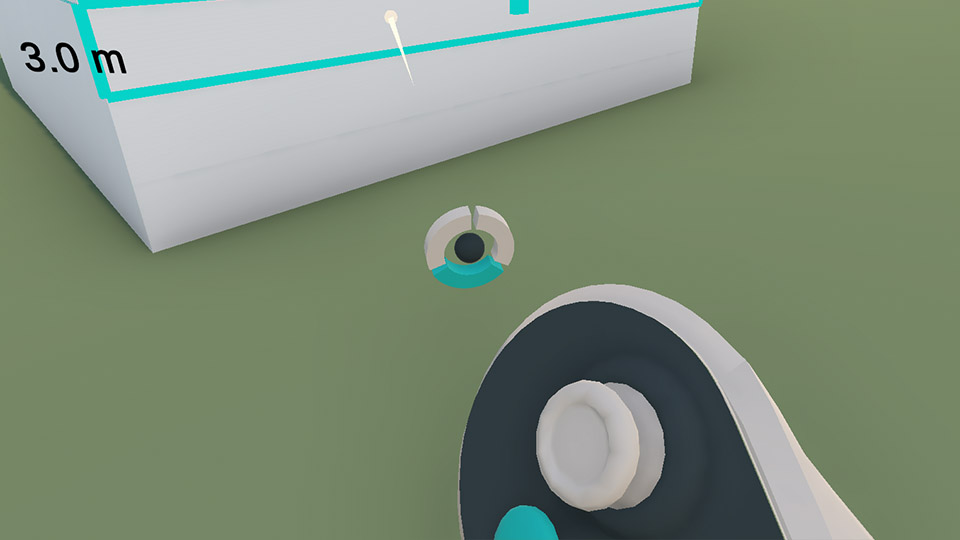 There is a small indicator in front of your controller that shows what mode is currently selected. Twisting your controller will update this indicator and give you some haptic feedback.
Editing all, top or individual features will also work for editing geometry by hand or for editing the other features like lines and points. Stacked shapes and arrays will be automatically joined together so they can be easily edited to any kind of shape using these wrist rotations.