Arkio allows you to create, share and switch between different design options using the scene overview found in the lower tab of the main menu. It shows a preview of your local model geometry (Custom content like loaded images, 3D models, map data, and props are not visible yet)
From the scene overview, you can create, duplicate, delete or export your scene to the various design tools. The highlighted plateau indicates your current active model. Switching between models can be done by selecting another model plateau. Models in Arkio are auto-saved after each operation so you can close Arkio or switch between options at any time.
When you create a new model you start with a default empty site of 500x320 meters. You can edit the corners of the green surface tot make your site larger or smaller, load a map with 3D buildings load a custom imports on the table as a base for your creations. You can duplicate a scene to make a copy of all current objects and properties so you can make an alternate study or prepare a different imported model to review together from the same point.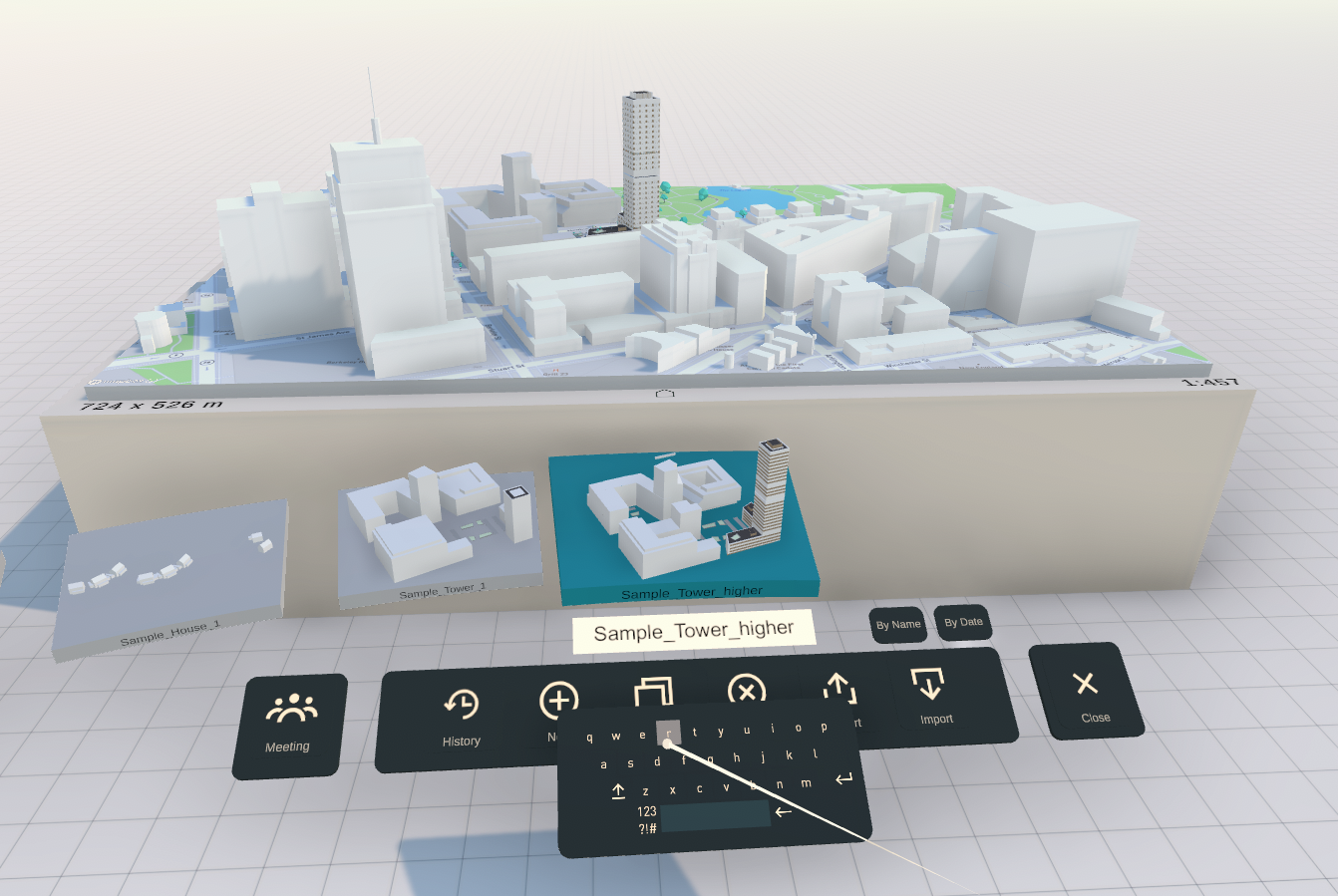 Models in the overview can de be renamed using the white input field in front of the model plateau. This will show a keyboard and allow you to update the name of the current highlighted. Scenes can be sorted alphabetically by name or by edit date so you can always find your latest file or sort them in the way you prefer by changing the name.
Model History and backups
Everything in Arkio is automatically saved and backed up. You don't have to worry about losing work as you can go back in time in history mode to find your backups (every 2 minutes). In this mode, automatic backups of models you previously worked on can be restored by selecting the model (yellow highlight) and pressing the restore button.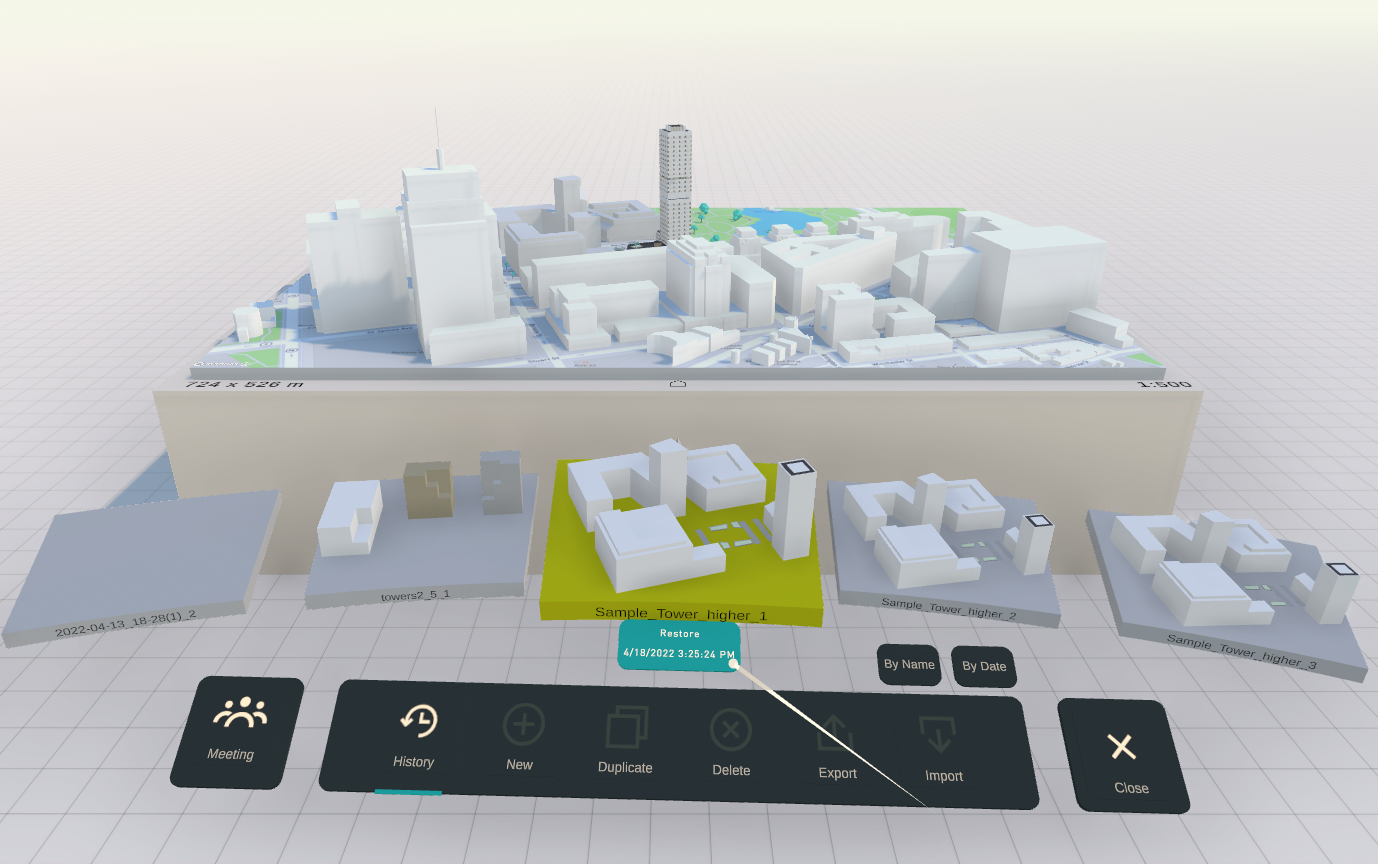 Model sharing in meetings
You can start a meeting and share your local models by joining the same Room and password. When you are the Meeting host you can share, create, duplicate and toggle between different design options in a meeting.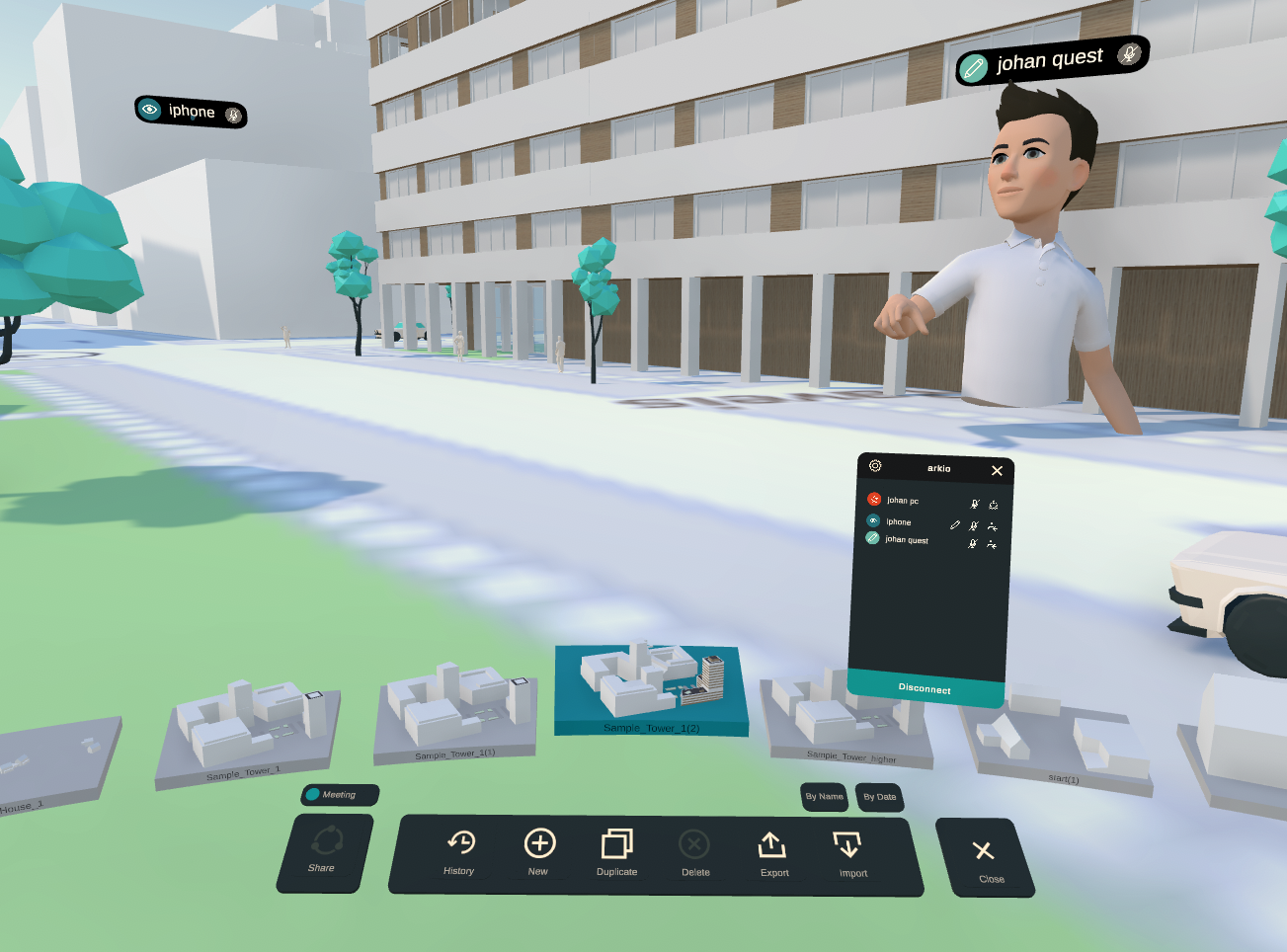 Models that are shared in a meeting are offset slightly to the front vs models that are only available on your local device. The Meeting host can swich between these models or share a local model with the other meeting participants (non-offseted, yellow highlight)
Arkio models are shared from device to device and not stored in the cloud. This way you can control who has access to your data and can continue working on your projects offline.
Invalid models
Whenan invalid model is detected the plateau will show red. This model, unfortunately, can not longer be used and will be removed at the next start. Models that went invalid can be restored from a recent history backup or reshared in a meeting from your other devices that had a meeting with this model.