Object and materials drawers
The left and the right side of the menu house drawers for loading geometry and materials. You can open these drawer by clicking on the tab icons on the left and right side of the menu if the create and/or paint/sketch tools are selected. Menu drawers are modular and can be detached from the menu and placed around you if desired for working (hover over the drawer and keep trigger pressed while pulling it away).
The two drawers contain some entourage and materials that have been categorized using tabs. The props and materials can be selected by clicking or can be dragged into your favorites by keeping the trigger pressed and moving it to a favorite slot. The last tab shows your custom 3D models and images that you've placed in your import folder.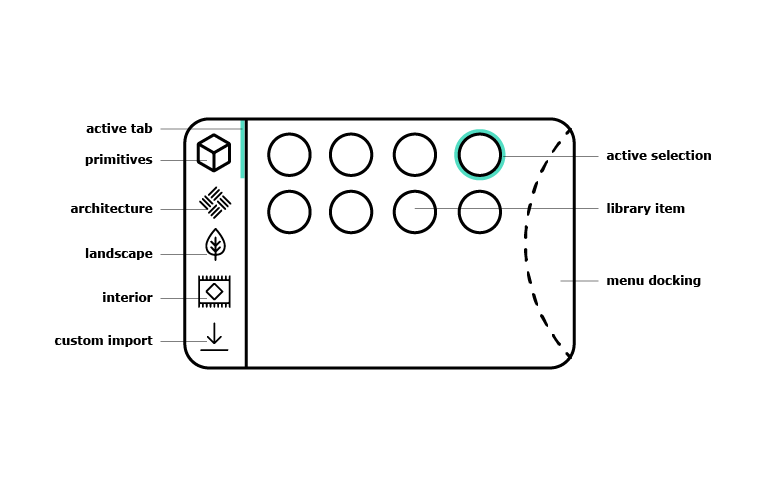 Bottom drawer - additional tools and utilities
Camera - Allows you to take pictures of the scene that are saved into the Arkio folder in your user directory
Solar study - Adjust the current time of day. Affects lighting conditions and sky
Section tool - Place a section plane in the scene
Map - Change your default location and add a map on the ground
Models - access the model carousel that allows you to view, duplicate and export models
Meeting - enter into a multi-user session
Settings - general settings of the app like units, scaling and snaps